Shopping Cart
Your Cart is Empty
There was an error with PayPal
Click here to try again
Thank you for your business!
You should be receiving an order confirmation from Paypal shortly.
Exit Shopping Cart
-Tree lines, trail sides, and forest edges are popular among birds this time of year thanks to Poison Ivy and other vining berries. What else are the birds in your area eating?
-Beavers are busy reinforcing their dens and stashing extra food for the winter. Have you noticed any other mammals doing the same? Detail your observations.
-Fall is prime time for nut-bearing trees to drop their seeds. What kind o...
Read Full Post »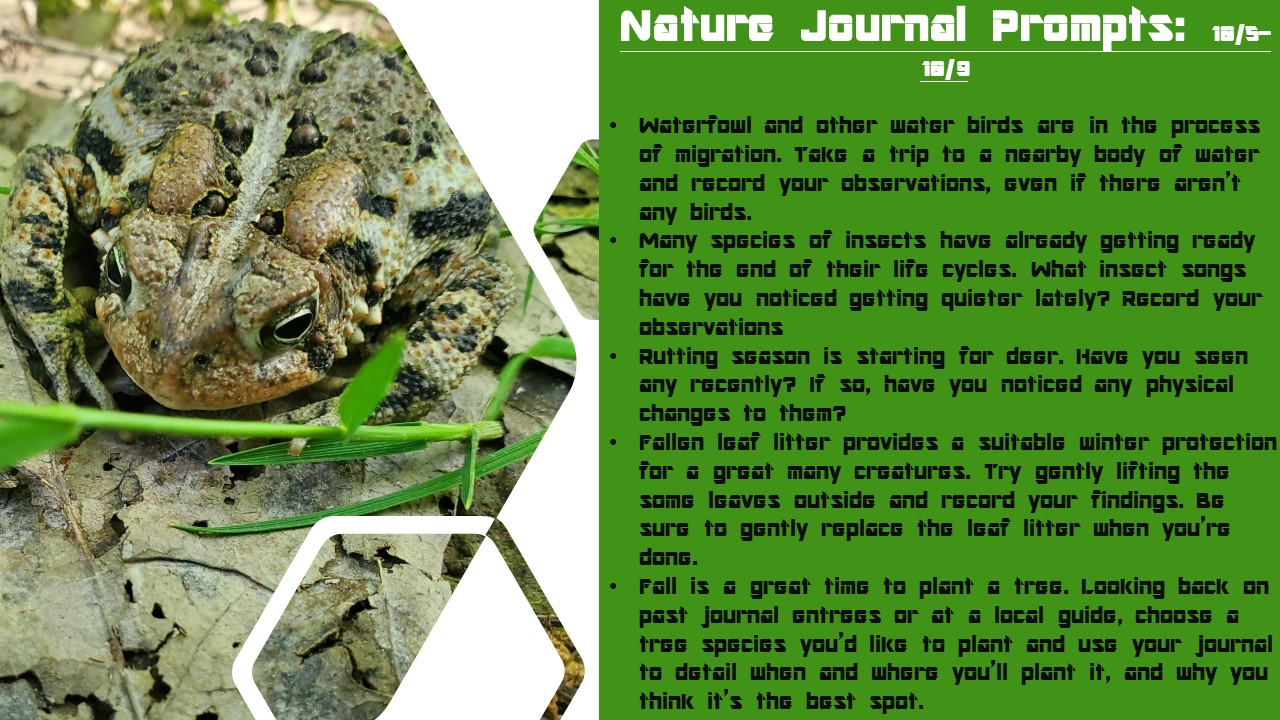 Nature Journal Prompts: 10/5-10/9
Waterfowl and other water birds are in the process of migration. Take a trip to a nearby body of water and record your observations, even if there aren't any birds.
Many species of insects have already getting ready for the end of their life cycles. What insect songs have you noticed getting qu...
Read Full Post »
Hidden amongst us is an entire world, unseen. It exists all around as, as well as within us. This world is teeming with a wild diversity of life that is everchanging and evolving. This world is the microworld, and within it exists a great many creatures and organisms. Viruses, bacteria, and fungus are the most common. Tiny insects and other creatures, like the tardigrade, live within this realm as well. The micro world consists of tiny things that we cannot see without the aid of magnifying l...
Read Full Post »
-It's prime mushroom season in many places. Take a trip outside and try to find some mushrooms to detail in your journal. Areas with decaying wood, leaves, or other organic matter are usually the best places to start.
-It's migration season for the Monarch butterflies. Have you seen any in your area? Detail your observations
-Fall migrations are kicking into full gear, with many birds beginning their journey south. Take some time to observe the birds currently in your ...
Read Full Post »
It's a force that carves valleys, forms caves, and washes away nutrients in our soil. It also helps distribute crucial minerals and nutrients into the food chain and form majestic streams and rivers. Erosion is a natural force unlike no other, and must be considered for so many areas in our everyday lives. Erosion must be accounted for when building roads, bridges, and buildings. It plays a major role in field planning and daily operations of farms. It destroys while simultaneously crea...
Read Full Post »
Quite a few of us northerners woke up to a perfect glaze of ice over everything outside this morning. Trees, roads, windows, grass, and just about anything else exposed to the elements was encased in ice overnight. It didn't snow, it didn't hail, but everything was iced. This is the result of a weather phenomenon known as freezing rain. It takes just the right combination of conditions for this to happen. But before we get into that, let's touch on a little basic weather sci...
Read Full Post »
I had a friend growing up that, like most kids, was fond of collecting things. Unlike the other kids, who were collecting the hottest trading cards or newest video games, he liked to collect bugs. Any time he found a dead bug, he'd take it home and add it to his collection. Of course, some of the other kids in our group would make fun of him. I loved going on a bug hunt with him, though. Every trip we took, I'd learn something new from him. Until I met him, I had no idea of the di...
Read Full Post »
For some, this is going to be a week of feasting and fun. Help work off all those extra calories by getting outside and spending time with nature! Use these journal prompts to give you a few ideas of where to go and what to do this week. 
Dress appropriately for the weather and take a short hike today. Detail your excursion in your journal. 
Have you noticed any winter berries or dormant seeds still hang...
Read Full Post »
All of the major winter holidays are right around the corner! Preparations for Christmas, Hanukkah, Kwanzaa, Yule, and so many more are underway! Don't let the hustle and bustle of the holiday season get in the way of your nature journaling, though! Here's the prompts for this week, to help you stay motivated and inspired to keep journaling through the chaos.
During the winter, some animals change color. Have you noticed any animals like this in your area? If so, detail your obs...
Read Full Post »
It's holiday week! Whether you are preparing to celebrate the anniversary of the first thanksgiving or if you're spending the day celebrating the history of First Nation Peoples, there is going to be a lot of preparation and fun! Those holiday celebrations are what these prompts will be centered around today. We did skip Sunday (11/24) due to some server issues, so this weeks list goes from Monday through Saturday.
Read Full Post »
/