Shopping Cart
Your Cart is Empty
There was an error with PayPal
Click here to try again
Thank you for your business!
You should be receiving an order confirmation from Paypal shortly.
Exit Shopping Cart
| | |
| --- | --- |
| Posted on September 21, 2016 at 2:45 PM | |
Did you know that lemons are technically berries? Or that the British Navy has been using lemon juice in the pervention of scurvy for centuries? That' because lemons contain vitamin C, along with other vitamins and acids essential to our health. And speaking of essential, did you know that the essential oil of a lemon is good for the health of your skin? Lemon oil is known for its "detoxifying" effects, as may help smooth and soften rough or calloused patches of skin. Lemon oil also helps clean and rejuvenate skin, while helping to remove excess oil, which may help those with facial or body acne.
The zesty scent of the lemon can be beneficial as well! Inhaling lemon can help clear sinus and nasal passageways, promoting easier breathing for those who suffer from asthma or allergies. The scent may also help keep you calm, focused, and concentrated. The smell also acts as an insect repellent, so it may help keep bugs off of you as well!
Use this super easy salt scrub recipe to exfoliate while getting many of the wonderful effects of lemon oil!
What you need:
10 drops Lemon essential oil
10 drops Avocado or Almond oil
½ cup sea salts
1/8 cup goat cheese soap base
1/8 cup Shae butter soap base
Soap mold
Colorant (optional)
Directions:
Shave your soap base into a microwave safe container, such a Pyrex cup. Microwave the soap base in 20 second intervals, being sure to stir between each interval, until the soap base has completely melted. Once melted, add your essential oil and, if applicable, soap colorant and mix. At this point, you will want to make sure that your soap mold is nearby. Once you add the salt, the mixture may begin to harden quickly.
Add your salts into the melted soap mixture and stir quickly. Be sure to scrape any materials from the sides of your container into the mix, as the soap on the walls of your container tends to harden first. Once the salts are fully incorporated, immediately pack the mixture into your mold(s). Now either leave your scrubs out to cool or place in the fridge for about an hour to set.
These scrubs are super easy to use, smell great, and do wonders for your skin. Use on your face for softer skin and to help treat or prevent acne, use on your hands or feet to treat callouses and rough skin, or just scrub down your whole body with them to get the wonderful benefits of lemon and sea salts.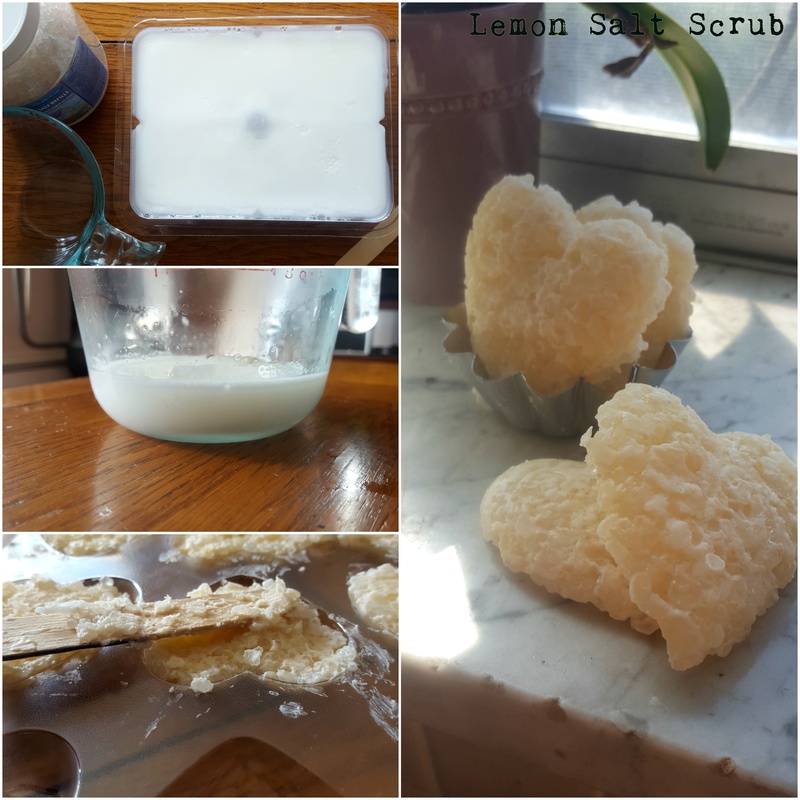 A couple of notes on this project: I use dead sea salt for most projects like this. For this particular project, while the extra mineral boost is nice, the downside is that the scrubs don't hold together well because of the larger grains of sea salts. That being said, a smaller grain or grind of salt is recommended. I also used small, "single-use size" molds for this project, simply as a matter of saving time on cutting soap later on. These scrubs can be done in a box mold and cut into cubes, or even in an ice cube tray! And for an extra exfoliant, you can even add some dried lemon zest, or substitute the salts with dried zest.
Product Reccomendations: Always be sure that the products you purchase for crafting are not only safe for use, but that they do not interfere with any potential allergies. Always spot check if you are unsure, or call your dermatologist or doctor.
Try to buy sustainably and morally produced and packaged products for your crafting needs and, if possible, try to always shop local. Shipping local not only helps out your community, but it can help both you and companies worldwide cut carbon footprints. Luckily there are a few mom-and-pop style craft shops with many of the items I need, and local metaphysical shops that not only grow the raw material for their products, but produce and package them locally as well. ALWAYS DO YOUR RESEARCH AND ALWAYS RECYCLE when applicable
CJ @ Children of Terra-NEO
Resources:
Sailor's Scurvy before and after James Lind by Jeremy Hugh Baron
16 health benefits of Lemons from care2
Lemon Juice Nutritional Value and Facts from SelfNutritionData
Categories: Health and Hygiene , Upcycling and DIY, How-To's
/