Shopping Cart
Your Cart is Empty
There was an error with PayPal
Click here to try again
Thank you for your business!
You should be receiving an order confirmation from Paypal shortly.
Exit Shopping Cart
| | |
| --- | --- |
| Posted on October 8, 2016 at 12:25 AM | |
With National Oatmeal day right around the corner (October 29th), it seems like a good time to talk about these incredible grains! Did you know that oats were some of the earliest cereals farmed by humans? Evidence shows oats as a known crop in China since around 7000 B.C... Did you also know that oatmeal is so popular that around 70% of Americans have oatmeal in their pantry? It's even launched a food cart craze! It's easy to understand why, given all of the good health benefits of eating oatmeal. And speaking of eating oatmeal, have you ever tried it topped with some honey? IT'S SO GOOD! And good for you, too!
Clearly something as awesome and healthy as oatmeal isn't just good to put in you, but on you, too! Thanks to its saponin content, oatmeal acts as a mild skin cleanser. With the lipid and protein content of oats, they make a great moisturizer. And thanks to the various vitamin contents, such as biotin, oats help heal damaged skin and even aging. And honey?! Raw honey can help moisturize skin, clear pores, may help clean away bacteria causing acne, and so much more!
Now that we know all of the wonderful benefits gained by your skin when using oats and honey, it's time to learn how to make this super easy soap!
What you will need:
-2 tablespoons honey
-2 tablespoons quick oats
-1/2 lbs. goats milk soap base
-2 drops almond or avocado oil
-1 teaspoon cocoa butter
-pinch of allspice
-pinch of cinnamon
-pinch of nutmeg
-tiny pinch of ginger
-soap colorant (optional)
-soap mold
Directions:
First, add your cocoa butter to the soap base, and begin melting. If melting in the microwave, place in the microwave for 30 second intervals, being sure to stir in between each interval. While your soap base is melting, place your oats and spices in a coffee grinder or food processor, and grind into a powder. Once your soap base is melted, begin adding all other ingredients while stirring vigorously, adding your colorant last if you are using one. I used 3 drops of gold liquid soap colorant in my batch.
Next, sprinkle a little oatmeal and spice into your soap mold, for decoration. Pour your soap mixture into the mold slowly, and place somewhere safe. You may want to place your molds on a tray so you can move them later without disturbing the molds. Let your soap set (usually about 35-45 minutes), and remove from the molds. Place on a piece of newspaper and let dry for about 3 days, and done! You have beautiful, rich, moisturizing honey and oatmeal soap! This soap is great for bodily use, facial use, and even just to use as an eye-catching hand soap.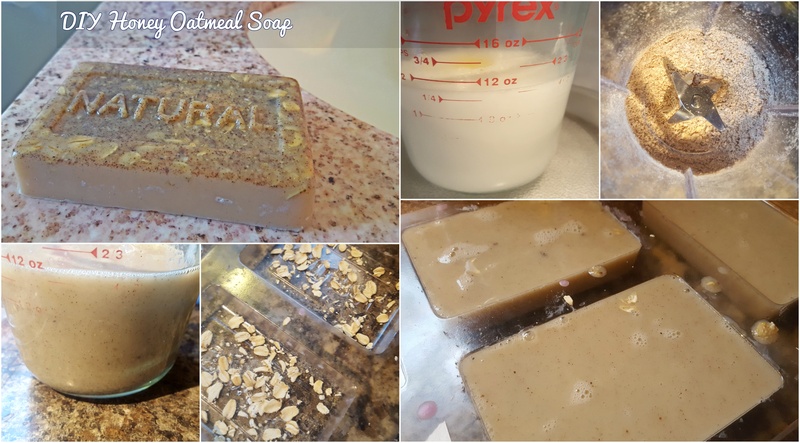 Project Notes: Before starting this project, ask yourself what kind of soap base you want. I used a regular soap base, so a bit more of the spice ended up resting at the bottom of the mold as the soap set. I wanted this look, but if you want something different, try a suspension soap base.
Always try to purchase morally and ethically produced products, and always try to shop local, both for your soap products and your honey. Shopping locally can help reduce your carbon footprint, and consuming locally produced honey may have added health benefits. To find out more about natural honey and where to find it, visit The National Honey Board.
CJ @ Children of Terra-NEO
Resources:
National Day Calender-National Oatmeal Day
The Gourmet Connection Magazine-Fun Facts for Oatmeal Month
Fabulous Foods-Fun Facts About Oatmeal
One Green Planet-Facts About Oatmeal
Dermatocare-Facts about Oatmeal for your Skin
The Derm Review-Oatmeal Face Masks
Women's Health Magazine-Beauty Uses for Honey
Categories: Health and Hygiene , Upcycling and DIY
/