Shopping Cart
Your Cart is Empty
There was an error with PayPal
Click here to try again
Thank you for your business!
You should be receiving an order confirmation from Paypal shortly.
Exit Shopping Cart
| | |
| --- | --- |
| Posted on January 4, 2017 at 10:35 AM | |
Sometimes after a long, hard day we need to bathe and find our pick-me-up of choice. Many people turn to coffee for the afternoon or evening perk, but who's going to drink coffee in the shower? Few people would, of course. So why not just cut out the middle man and bathe with your coffee?
That's right… bathe with your coffee. It has a wide host of health and beauty benefits for your skin! By dehydrating fatty cells, coffee can reduce the appearance of cellulite. The caffeine in your every day cup of joe has anti-inflammatory properties, which helps reduce blood accumulation under the eyes (those dark circles we all get without our coffee). Our mean beans also contain tons of anti-oxidants, which can help repair and protect your skin from UV damage. And if all of that wasn't enough, your ground coffee makes a great exfoliant.
This super easy recipe will make one large bar of layered soap, and is a great opportunity to upcycle a few household items!
What you will need:
-2½oz Goats milk soap base
-1oz Shea butter soap base
-¼ cup Ground coffee
-3 tablespoons Coconut Oil
-5 drops Almond oil
-2 tablespoons Cocoa butter
-6 drops Pure vanilla extract or oil
Directions:
First, combine your goats milk soap base, cocoa butter, vanilla, and almond oil either in a microwave safe dish or in a double boiler. Melt it all together, being sure to mix well, then pour into a mold. Set your mold aside to start setting and begin working your coffee layer. Start by melting your coconut oil, and combining it in a blender or food processor with the coffee. Grind this mixture until the coffee becomes super fine, and the mixture looks kind of like sludge. Add this to your shea butter soap base, and melt. By now, your goats milk soap should have start to set. If it has a bit of a film on the top of it, then it's ready for the coffee layer.
Slowly pour your coffee soap into one side of the mold. At this point, you should take a toothpick or popsicle stick and run it through the soap a few times. This is to achieve a sort of marbled look to the soap. Almost done! Just put your soap somewhere cool and dry and allow it to cool and set. Once it has set, remove it from your mold and place on paper for a few days to dry and cure. If your coffee grounds still had some moisture in them, some of the oils may be drawn out with the moisture during the drying period. If this becomes excessive, just pat dry with a cloth or paper towel.
Done!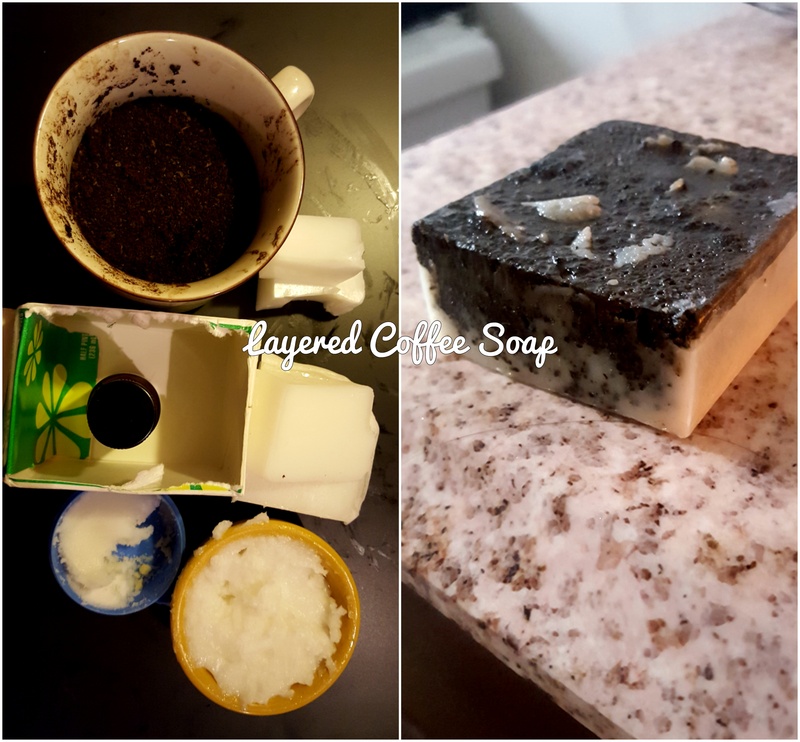 Project notes:
As I mentioned earlier, this project is a great opportunity to upcycle a few household items. If you save and dry out your used coffee grounds, they can be easily repurposed for this project. If you don't have a soap mold, you can recycle a milk carton into a single-use soap mold. Just cut the long side of the carton, and fold it down to cover the spout area. Use a binder or paper clip to hold it in place. Also, be sure your spout is closed or covered, just in case.
Also, be sure to shop locally for as much of your project components as possible. Shopping local helps to cut down on carbon emmissions, as well as help support your local businesses and economy. We got lucky, and have a mom and pop craft store nearby that specializes in organic and handmade products. 
CJ @ Children of Terra-NEO
Resources:
New Health Advisor-Benefitds of Coffee on Skin
https://fitmud.com/blogs/coffee-scrub/41016065-the-benefits-of-coffee-scrub-for-your-skin" target="_blank">Fitmud-How does the caffiene in coffee benefit your skin?
The Times of India-Benefits of Coffee for your Skin
Sustainable Connections-Why Buy Local?
Categories: Upcycling and DIY, Health and Hygiene
/