Shopping Cart
Your Cart is Empty
There was an error with PayPal
Click here to try again
Thank you for your business!
You should be receiving an order confirmation from Paypal shortly.
Exit Shopping Cart
| | |
| --- | --- |
| Posted on February 1, 2017 at 11:05 PM | |
Flat, round, sometimes bubbly, and always delicious… can you guess what we made this Meat Free Monday? I'll give you a hint: It's bread, and it's flat…
Hopefully by now you've guessed flatbread! This super simple and super delicious dish is widely considered to be among the first breads baked by man. In fact, one of the oldest is known to have been in Babylon around the year of 4000 B.C. Thanks to how long flatbreads have maintained their popularity, folks around the globe have created literally hundreds of different styles and flavors!
The flatbread we made is very dense, yet very soft. It's great as a wrap, on the side with stir-fry, in place of normal na'an bread with curry dishes, or even just as a snack with hummus! I found myself snacking on these delicious round pieces of baked dough throughout the day.
Ready to learn how to make this super quick and easy flatbread?
Ingredients:
-2 cups all purpose flour
-½ teaspoon Salt
-½ tablespoon Granulated Garlic
-½ tablespoon Cracked or Fresh Ground Pepper
-Pinch of White Pepper
-3½ tablespoons Butter
-½ cup Whole Milk
-¼ cup Plain Yogurt
Vegan:
-"Vegan Butter" in place of butter
-Soy milk in place of whole milk
-Coconut cream in place of yogurt
Directions:
Start by combining your milk and butter in a small sauce pan. Heat on medium-low heat until JUST until the butter has melted. In a large bowl, mix together your flour, salt, garlic, and your white and black peppers. Add the milk and butter mixture, along with your yogurt, and begin mixing and kneading. Once all of the ingredients are fully incorporated, you should only have to knead the dough for about five minutes. Once you're done kneading, wrap your dough up in a few layers of muslin cloth and let sit at room temperature for about 45 minutes.
When it's ready, cut your dough into 4-5" balls. On a floured surface, roll the balls out into 1/8" thick circles. Heat up a non-stick or copper pan on a stove. For crisper flatbreads with more air pockets in it, use a high heat. For softer, denser flatbreads, use medium heat. Place your flatbreads in the pan, and let them cook on one side until they have the color your prefer. If you would like bigger, darker spots, just let it cook longer. Then flip, and repeat. Once both sides are done, place your flatbreads on a cooling rack, and done!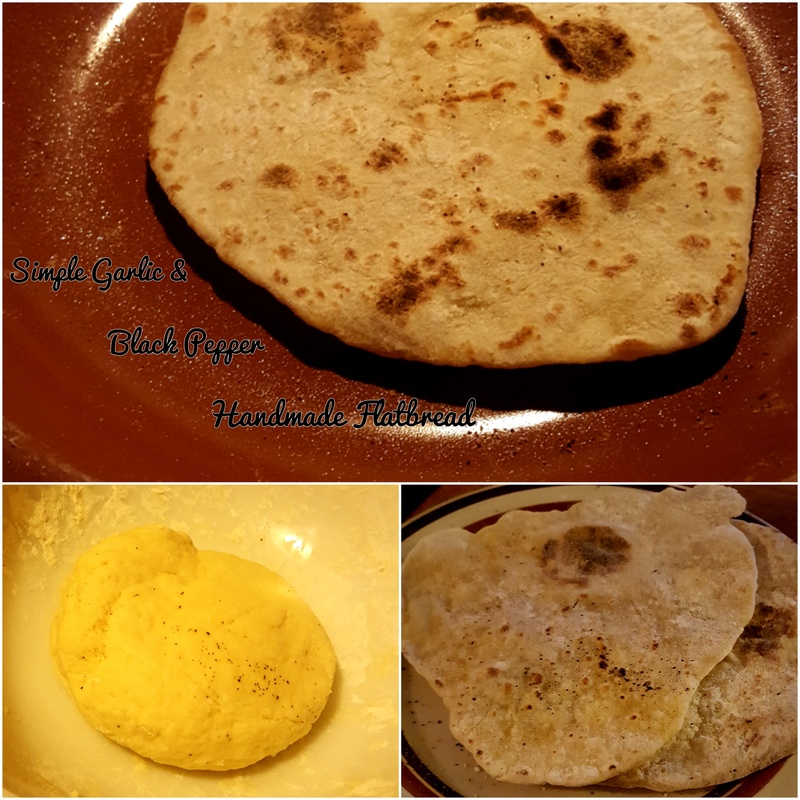 Project notes:
As I said, this recipe makes a dense, na'an like flat bread. If you would like it to be more like a pita, you need to bake it at an extremely high temperature (anywhere from the 750⁰F to 850⁰F range). By doing so, pockets of steam inside of the dough form from the extreme heat, giving the pita their signature style.
I've already tried the vegan version of this recipe, and the taste and texture really wasn't much different from the regular recipe. The only noticeable difference to me was that the vegan flatbread had a much richer flavor.
Final note: I'm going to experiment with a few techniques I've learned from chefs that I've worked with to make the flatbread lighter and fluffier. We will try dough mixing methods, stretching techniques, and different recipes to try and achieve this goal. More updates to come!
Be sure to share your results in the comments section below! We love seeing all of your projects in action!
CJ @ Children of Terra-NEO
Resources:
Original Recipe Inspiration: Recipe TinEats-Soft, easy flatbread
Go Dairy Free-How to substitute yogurt
Fork And Beans-Vegan Butter Substitute Recipe
Food Reference-Flatbread Trivia
Categories: In the Kitchen, Going Green, How-To's
/