Shopping Cart
Your Cart is Empty
There was an error with PayPal
Click here to try again
Thank you for your business!
You should be receiving an order confirmation from Paypal shortly.
Exit Shopping Cart
| | |
| --- | --- |
| Posted on February 17, 2017 at 11:00 AM | |
Ohio winters are harsh. Even lately, with our "Spring-is-here-no-it's-not" weather, every time the cold weather moves in, the driest and coldest of conditions come with it. As most of us know, this kind of weather wreaks havoc on our skin. Personally, I have a lot of issue with dry facial skin, dry scalp, and cracking skin on my hands during the winter. While many of us keep some sort of moisturizing product around for ourselves, how many of us are thinking about the dermal chaos winter wreaks on our furry friends?
This cold weather can cause the same issues with cracking and dryness on the paws of your dog (or even outdoor cats). Beyond that, the salt that is used as an ice preventative and melter tends to cause even more issues with your pet. While you can use pet-friendly alternatives to salt, you probably can't, and shouldn't, keep your dog inside the whole winter. So what are we to do about their irritated paw pads?
Learn how to make this super easy, homemade paw balm to soothe and heal your pet's paws!
Ingredients:
-2 Tablespoons Shea Butter
-2 Tablespoons Coconut oil
-2 Tablespoons Beeswax
-1 Teaspoon Honey
-4 Drops of Sweet Almond Oil
Directions:
Combine all ingredients in a double boiler. Melt them down, stirring occasionally. When all ingredients have completely melted, stir vigorously for 30 seconds, then let the mixture come to rest. Remove the mixture from heat and immediately pour into your storage container.
It would be best to choose a container that is wide enough for you to rub your pet's paw in directly in it. You should also be sure your container doesn't have any sharp edges, for the same reason. Let the mixture cool completely. Your paw balm should have the texture of a lip balm. If the texture isn't right, simply re-melt the mixture and adjust it.
Once cooled, it is ready to use! Simply rub your pup's paws in the balm when they are getting dry or irritated!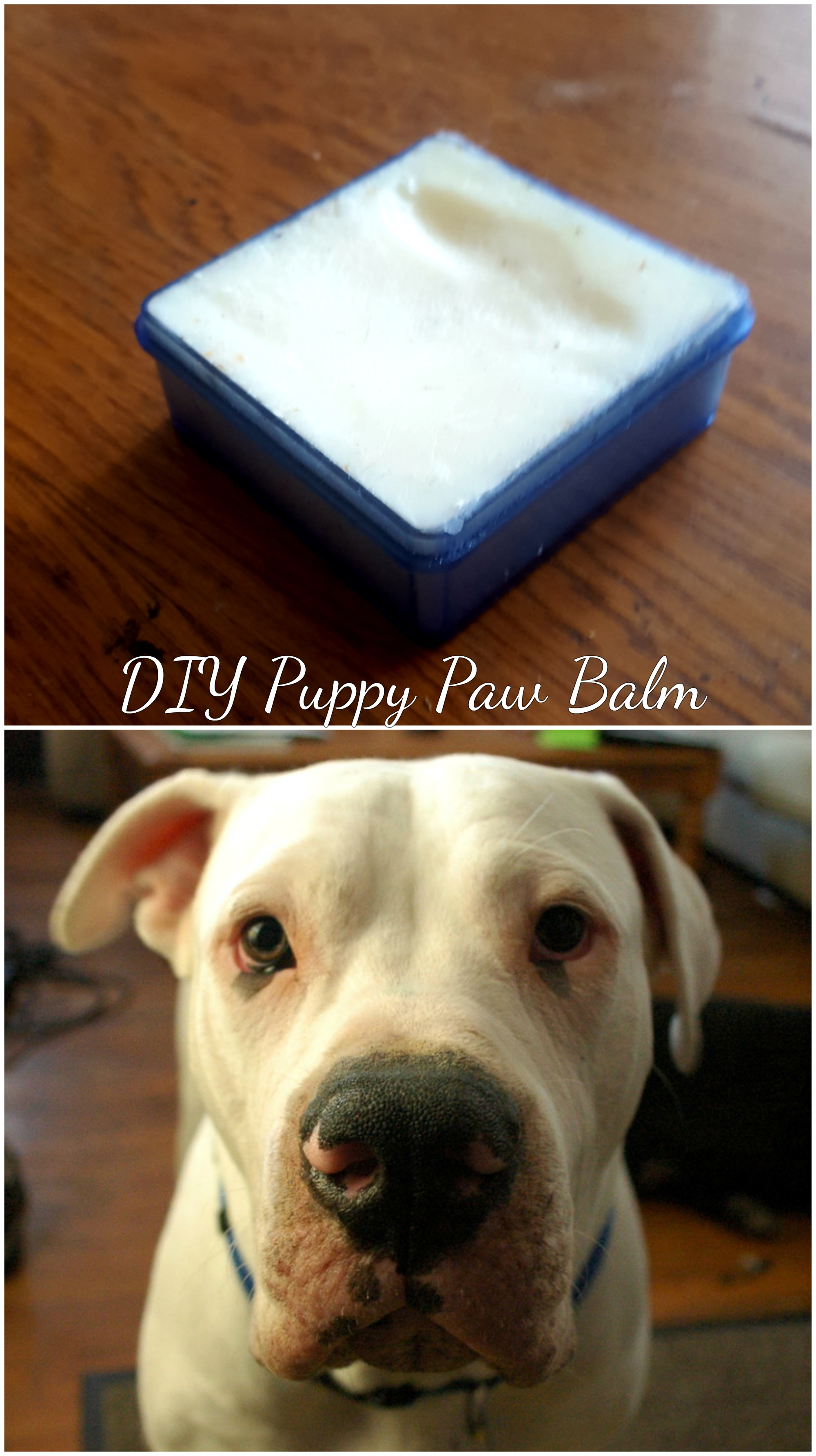 Project notes:
The addition of other essential oils may be a good idea to customize the healing effects of this balm to your pet. Be sure to do your research and be certain that the oils you choose are safe to use with your pet.
Try to shop local for as much of your raw materials as possible. It can help cut carbon emissions, as well as help support your local economy. And be sure to check out the National Honey Board website to learn more about the amazing effects of honey, as well as where to find your local honey producers.
CJ @ Children of Terra-NEO
Resources:
https://www.dogtopia.com/blog/dangers-of-rock-salt-on-dogs-paws/" target="_blank">Dogtopia-The Dangers of Rock Salt on Dog Paws
Happy Tails Spa-Natural Ingredients to Soothe Your Dog's Paws
Dermatocare-Benefts of Honey on Skin
https://www.cesarsway.com/dog-care/paws/winter-proofing-your-dogs-paws" target="_blank">Cesar's Way-Winterproofing Dog Paws
Categories: Eco-pets, Upcycling and DIY, How-To's
/