Shopping Cart
Your Cart is Empty
There was an error with PayPal
Click here to try again
Thank you for your business!
You should be receiving an order confirmation from Paypal shortly.
Exit Shopping Cart
| | |
| --- | --- |
| Posted on February 20, 2017 at 11:10 AM | |
We all love the simple things in life, and what tends to be simpler than a peanut? As fun and easy of a snack as these lovely little legumes are, they may not be as simple as you think. Peanuts contain vitamins B and E, as well as plenty of fatty acids that are good for heart and colon health. Combine that with all of the amazing properties of coconut oil, and you've got yourself a winning and uncommon combination.
George Washington Carver once said ""when you do the common things in life in an uncommon way, you will command the attention of the world." Contrary to popular belief, George Washington Carver wasn't responsible for the invention of peanut butter. In fact, forms of peanut butter date back to Aztec times. Dr. John Harvey Kellogg patented the modern form of peanut butter processing.
One way you can do common things in an uncommon way: Rather than going out and purchasing dog treats, make them at home!
Ingredients:
-¼ cup Coconut Oil
-¼ cup All Natural Peanut Butter
-Pinch of cinnamon
Directions:
In a double boiler, melt all of your ingredients together, stirring often. You want the liquid mixture to have the texture of a slightly thick paste. Once melted, pour into a mold and place in your freezer to set. Once the treats are solid, pop them out of your mold, and store in a covered container in the fridge.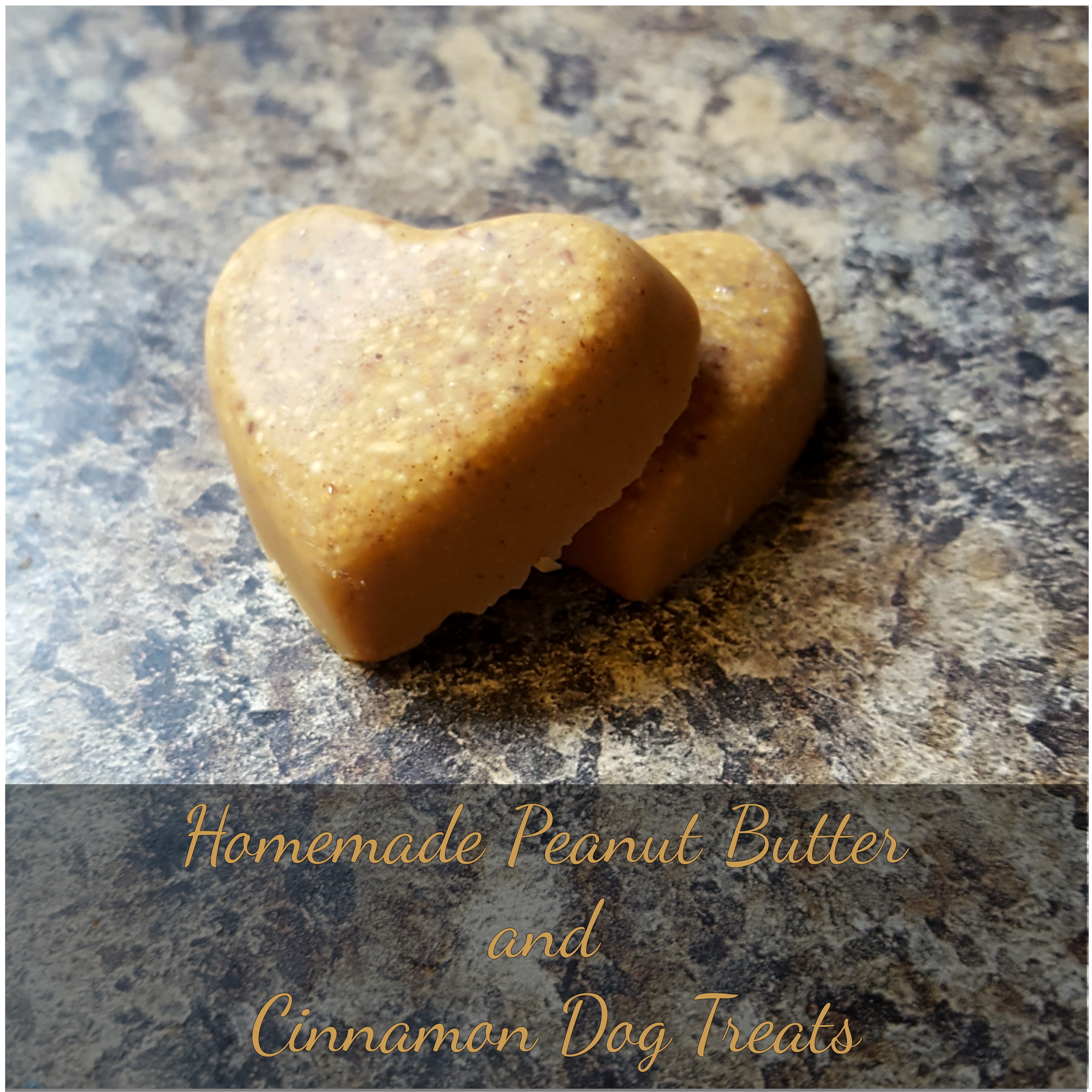 Project notes:
While peanut butter is a great source of protein, as well as Vitamins B and E, it could be extremely dangerous for your dog. Give them ONLY raw natural peanut butter with no sugar or salt added, and be sure it is completely free of Xylitol. Xylitol is a sweetener commonly found in peanut butters, yogurts, and other foods. While it is safe for human consumption, it can be toxic to your dog.
Even if you have the right peanut butter, be sure to only give your dog these treats in moderation. The overconsumption of any of the ingredients in these treats can cause issues. For example, too much coconut oil intake can result in indigestion or problems with diarrhea.
I decided to add cinnamon for two reasons: flavor and usage. Our little buddy Aiden is getting a bit old, and being a Dachshund, he's starting to have some issues with his hips and joints. Cinnamon is known to help with inflammation and blood flow, and is believed to boost energy levels.
Let us know how your treats turned out! Share your results in the comments below!
CJ @ Children of Terra-NEO
Resources:
https://www.cesarsway.com/dog-care/nutrition/dog-approved-people-food" target="_blank">Cesar's Way-Dog Approved People Food
https://www.thedodo.com/ingrediant-could-be-deadly-dog-1449364385.html" target="_blank">The Dodo-Peanut Butter Ingredient Could Be Deadly For Your Dogs
PetMD-The benefits and risks of coconut oil
Dogster-An essential ingredient for dogs and humans to share
Categories: Eco-pets, How-To's, In the Kitchen
/