Shopping Cart
Your Cart is Empty
There was an error with PayPal
Click here to try again
Thank you for your business!
You should be receiving an order confirmation from Paypal shortly.
Exit Shopping Cart
| | |
| --- | --- |
| Posted on March 20, 2017 at 2:35 PM | |
It's a staple of many college student's diets, was the first noodle to go to space, and there is at least 2 dozen ways to make it in Japan. If you guessed that we're talking about Ramen noodles, you guessed right! Introduced by Momofuku Ando in 1958 as an answer to the food scarcity facing Japan after World War II, this simple packaged product was considered a luxury item. Back then, it was actually cheaper to purchase fresh udon noodles from a grocer than it was to purchase a pack of instant ramen. Obviously, times have changed.
While many of us may love the addicting, umami-rich flavor of instant ramen, many people don't know how truly heavenly a bowl of freshly made ramen can be. If you want to learn how to make this incredibly easy and delicious soup, just keep reading on!
Before we learn how to make Ramen, though, you have some decisions to make. As previously mentioned, there are at least 2 dozen different ways to make Ramen in Japan, and so many ways to make your ramen your own. For that reason, before we learn how to make ramen, you need to learn a bit more about all the options you have to make it with.
Let's start with broth. (Since we are doing vegetarian ramen, we will only be discussing vegetarian broths here, but please feel free to research on your own and learn about all of the different ways you can make ramen!) One of the most commonly used options is miso broth. Miso is a paste made by fermenting soybeans with various other ingredients to achieve certain flavors and colors. White miso is fermented with a large amount of rice, and tends to have a defined sweetness in it's flavor. Red miso is usually fermented with grains, such as barley, and has a deep umami flavor. Yellow miso is often fermented with barley and rice, and has mild, sort of earthy flavor.
Any type of vegetable broth can also be used, which leaves you open to add whatever vegetables you would like to achieve the flavor you would prefer. You can also use a mushroom broth, for a strong a deep earthy flavor. Beyond that, many new recipes have started cropping up lately, such as curry or creamy squash broths. Do your research, find a flavor that suits you, and don't be afraid to experiment!
Now that we've discussed broths, let's talk noodles. This is another part of the soup that requires some serious decision making. Let's start with my personal favorite, the soba noodle. "Soba" means "buckwheat", so it's no surprise that these noodles are made out of buckwheat. This gives them a thicker texture and an earthier flavor. There is also yakisoba noodles which, contrary to their name (meaning "cooked buckwheat"), actually do not contain any buckwheat. Based in wheat flour, these noodles have a lighter texture and flavor, and are actually better fried than just boiled. If you're still in the mood for wheat flour, you can always go with the classic udon noodle. Udon noodles have a lighter flavor and a wonderful chewy texture that makes them fun to slurp up and chow down on. You can also try either somen or rice noodles, which are so thin that they don't even have to be boiled. Just let them sit in your hot broth for a couple of minutes and they are ready to eat! Finally, if you want to make a straight up ramen dish, you can always go with ramen noodles.
Now that we've covered the different types of broths and noodles you can use, it's FINALLY time to learn how to make ramen. I'm doing the recipe on this MFM post a bit different than usual, though. Since there are so many options to choose from for your soup, I'm going to give you a general recipe, and the recipe I used this for this Meat Free Monday.
Homemade vegetarian ramen
Prep time: 10-15 minutes
Cook time: 10-15 minutes
Serves: 2 people
Ingredients:
-2 quarts broth
-2 eggs
-1/4 cup protein (such as tofu)
-1/4 cup vegetables
-2 tablespoons cooking oil
-Seasonings
-Additional Sauces to add flavor to broth (optional)
-2 small bundles of noodles
General directions for ramen:
Bring a small pot of water to a rolling boil, and drop your eggs in. Boil your eggs for seven minutes, then remove from heat and immediately cool. While your eggs are cooking, start another pot of water for your noodles and begin warming up your broth, then begin cutting you ingredients. Once your ingredients are prepped, add your oil to a frying pan and bring to high heat. Fry your protein for about 5 minutes, or until it has obtained the desired crispness. Add your vegetables and any desired seasoning to the pan, and fry for about 5 more minutes. Boil your noodles.
To serve: Peel your egg. Place your fried vegetables and protein in the bottom of the bowl. Place your noodles on top of that mixture in a tight pile. Fill your bowl with broth, and add whatever garnish you would like. Cut your egg in half and place in the side of the bowl. Serve immediately.
Ingredients I used:
-¼ cup Extra Firm Tofu, pressed and cubed
-4 baby portabella mushrooms
-1 small White Onion, diced
-1 small Shredded Carrot
-2 eggs
-2 cloves Garlic, diced
-2 large Bok Choy leaves, sliced
-2 tablespoons cooking oil
-1/8 teaspoon garlic powder
-1/8 teaspoon Salt and Pepper
-2 small bundles of Soba Noodles
Broth
-2 ½ cups water
-2 ½ tablespoons White Miso Paste
-1 tablespoon Soy Sauce
-1 tablespoon Siracha
-1 tablespoon Honey
-2 drops Sesame Oil
-2 cloves garlic
-1 teaspoon mild curry powder
Garnish
-2 Baby Portabella Mushrooms, sliced thin
-4 to 6 strips of Carrot
-2 small Bok Choy Leaves, whole
Directions for the ramen I made:
Garnish
This can be done before hand, or if you're able to multitask enough, while you are cooking the ramen. Take your thin carrot strips and soak in cool water for 15-20 minutes. While that's soaking, steam your bok choy leaves and mushroom slices for 4-5 minutes, or until tender.
Ramen
In a medium pot, add all ingredients for broth and begin heating over low heat, stirring occasionally. Next, bring a small pot of water to a rolling boil. Place your eggs in the water and boil for 7 minutes. Remove the eggs from heat and cool immediately.
While your eggs are cooking, press your tofu dry and cut it into cubes. Sprinkle your tofu with the salt, pepper, and garlic powder. At this point, you should also prepare all your other vegetables. Next, bring a medium pot of water to a boil, and cook your noodles for about 3-5 minutes. Drain immediately when done and set aside.
While your noodles are cooking, bring two tablespoons over high heat in a large frying pan. Add your tofu and cook for about 5 minutes, flipping occasionally, until both sides of your cubes have a golden brown color. Add your vegetables, and cook for another 5 minutes, tossing or mixing occasionally.
Serve as directed above.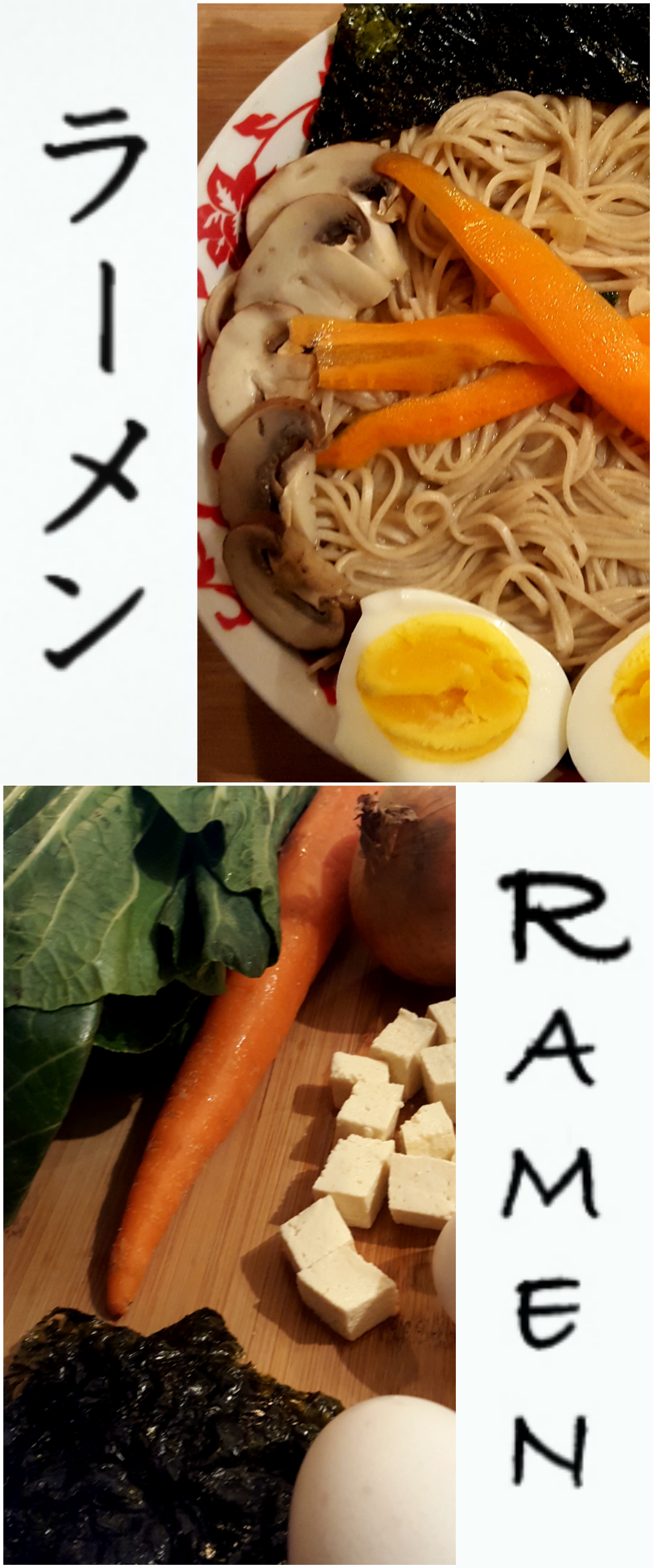 Project notes:
Seriously…. So many options. It's always good to do some research before you hit the store to make sure you're not spending money on things you don't like or can't eat. It's also good to have a general idea of what flavors usually go good together. While you can always come up with your own recipes and creations, there are few things as disheartening as planning an epic meal only to have it turn out tasting like an epic fail.
If you don't want to make your own broth, many stores often carry cartons of heat-and-serve broth, which cuts out some of the prep time and hassle of making this already quick and easy dish. Just keep in mind if you go this route that many of the broths used for ramen are extremely high in sodium, so you might still be better off doing it homemade if you're on a low sodium diet.
One other thing… though it's not mentioned in the recipe, I often use a couple of sheets of nori (seaweed snack) as a garnish. It's amazing in soup as it tends to add a nice, deep umami flavor.
Be sure to show us what you made in the comments below! We love seeing your projects and how they turn out!
CJ @ Children of Terra-NEO
Resources:
https://spoonuniversity.com/lifestyle/21-things-didnt-know-ramen" target="_blank">Spoon University-21 Things you ddin't know about ramen
Huffington Post: 10 Ramen Facts
The Kitchn-What is the difference between yellow, white, and red miso?
https://www.japancentre.com/en/pages/42-japanese-noodles" target="_blank">Japan Centre-Types of Japanese Noodles
Categories: In the Kitchen, How-To's, Going Green
/