Shopping Cart
Your Cart is Empty
There was an error with PayPal
Click here to try again
Thank you for your business!
You should be receiving an order confirmation from Paypal shortly.
Exit Shopping Cart
| | |
| --- | --- |
| Posted on April 18, 2017 at 3:00 PM | |
We all love having plants around the home. Whether they add that special touch to a décor scheme, or act as a beautiful centerpiece on the dining room table, so many homes have found a reason to keep a plant or two around. But did you know that keeping plants in the house comes with a whole host of psychological and physical benefits?
It's true! Per a study by the University of Michigan, being around a natural setting can increase your memory and concentration by up to twenty percent! That boost comes even if your "natural setting" is just the influence of plants in your home. To add more to the mental assistance offered to us by plants, flowers around the home can help reduce stress. In fact, they are so beneficial to our happiness that they have been found to assist in reducing stress related depression! If that's not enough, some studies have shown that people who spend extended periods of time around plants tend to have better relationships with their friends and families, as that time with nature can help expand one's empathy and compassion.
Physically, plants help you breathe easy. Because they "eat" carbon dioxide and emit oxygen, they act as a natural air filter. Aside from the oxygen they add to the air, they help increase humidity in the home. This helps reduce the risk of dry skin, sore throats, and coughs. It's also possible that the presence of plants during the healing process after a physical trauma or surgery can help speed up healing time, as well!
So obviously, it's a good idea to keep plants in the home. Why just keep old fashioned potted plants around when you can bring a little piece of nature into your home with a terrarium? Most terrariums are easy to maintain, beautiful to look at, provide a whole host of mental and physical benefits, and provide children with a great opportunity to learn more about the natural world!
Here, we're going to show you how to make two different types of terrariums: Land and Water! Let's get started with land.
How to build an indoor land terrarium:
What you'll need:
-A glass container
-Gravel stones
-Moss
-Potting soil
-Plants
-Decorations
Instructions:
Make sure your container and gravel are clean. Start with a layer of stones at the bottom of your container, ideally about 1-2" in depth. The stone layer help to drain any excess water from your terrarium. Next, place a layer of moss across the stones. You don't need to use a lot of moss, but you shouldn't be able to see much stone through the top of the moss layer. Next, add your plants and soil. Be sure to pay attention to the growing requirements of the plants you're using, and be sure to use plants that will grow together rather than choke each other out. Moisten your soil, and add your decorations. You're done!
Again, be sure to check the growing requirements of your plants to find out when to water them and how much sunlight they should be exposed to. A good rule of thumb is to keep the soil slightly moistened, misting the terrarium lightly every other day, but that also comes down to what style of container you have chosen.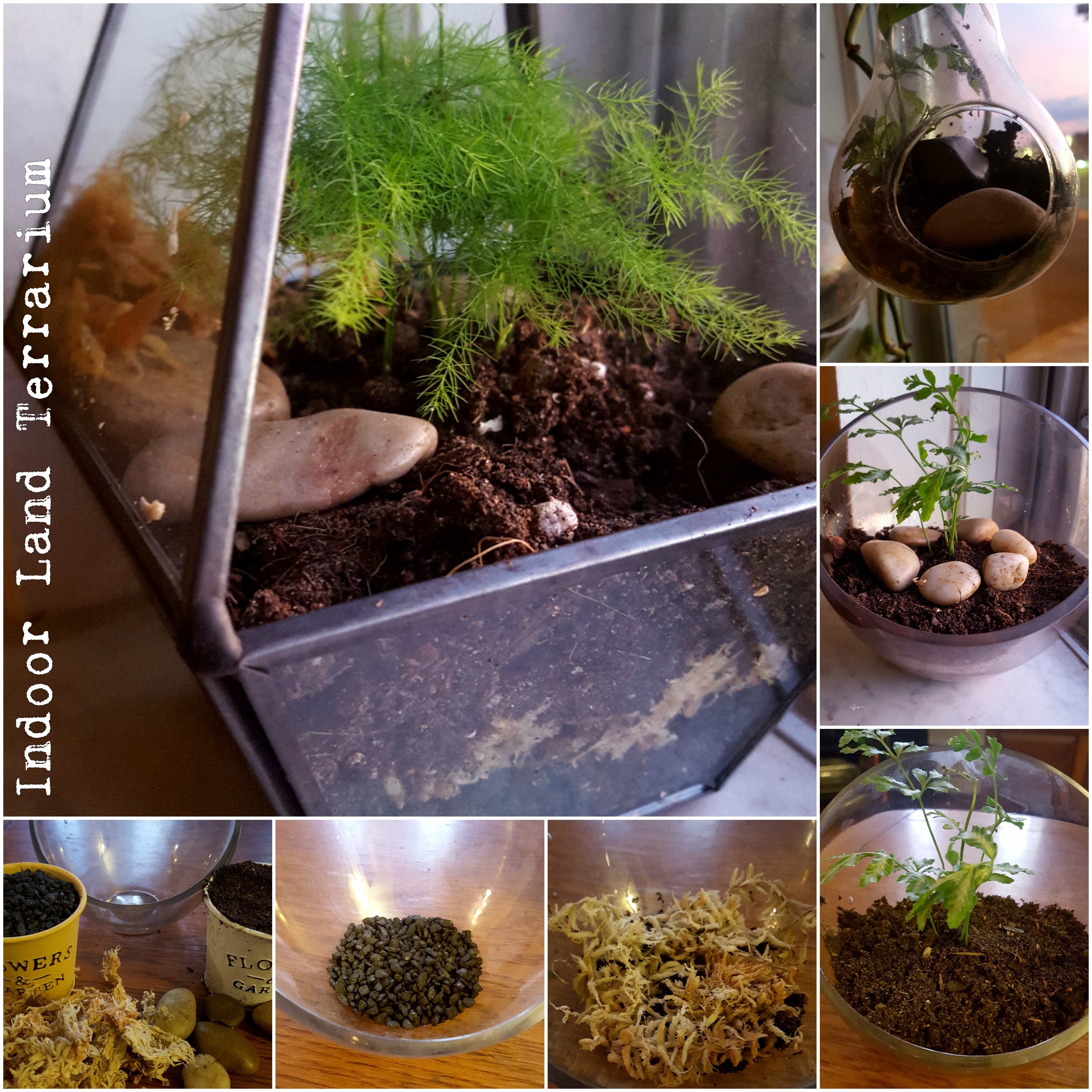 Ready to learn how to bring a little piece of the pond home?
How to build and indoor water terrarium:
What you'll need:
-A glass container
-Gravel stones
-Larger, decorative stones
-A pond or aquarium plant
-Water
Instructions:
Make sure your container and gravel are clean. Start by adding a layer of the gravel stones to the bottom of the container, ideally 1-2" thick. Next, place your plant in the container. You can choose to leave it in the pot in came in, or take it out. I took mine out of the pot. Next, fill in the areas around your plant with the larger stones. Fill the container up slowly with room temperature water, and you're done!
Be sure not to place this terrarium in direct sunlight, as it may speed up algae growth and suffocate your plant. Be sure to change the water at least once a week, leaving a little bit of the older water each time so as to maintain a healthy bacterial environment for your plant.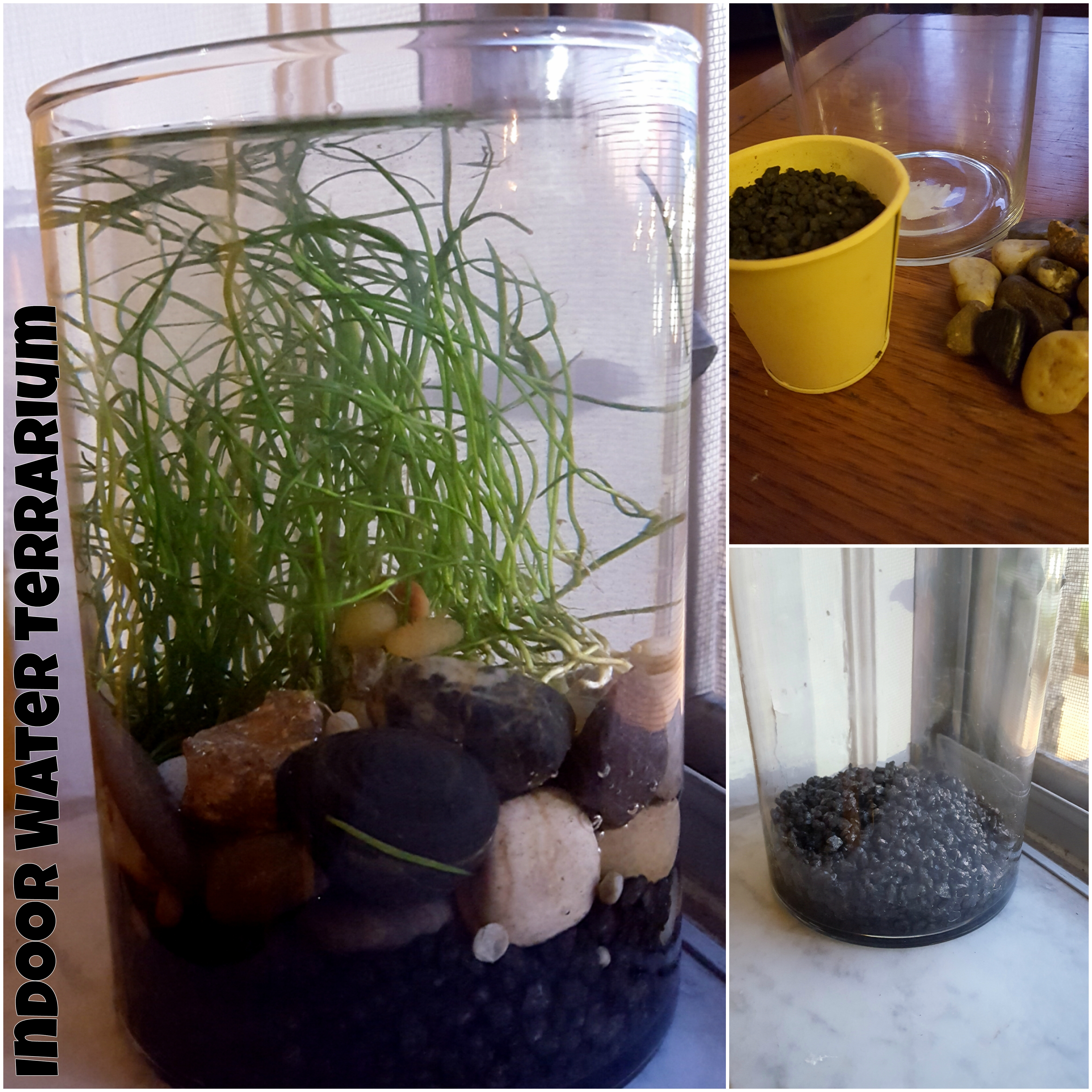 Project notes:
First and foremost, a lot of people may get upset over the fact that we didn't use an activated charcoal layer in this terrarium. Charcoal acts as a filter and helps to control any odors that may emanate from your terrarium. While it is a useful addition to any terrarium, it is only necessary if you're building a closed terrarium.
For the potting soil, I used a mixture of 1 potting sand, 1 part coconut fiber, 1 part organic compost, and three parts organic potting soil. I also moistened the soil before I put it into the terrarium. If you decide to use this mixture, it should feel moist and slightly fluffy once mixed properly.
As stated before, be sure to pain attention to the planting and growing requirements of your plants. That includes temperatures, sunlight exposure, and watering requirements. This is important as a beautiful terrarium can quickly die without the proper care. Also, it may be best to use distilled or filtered water, especially if you're not using a charcoal layer in your terrarium.
CJ @ Children of Terra-NEO
What kind of container did you use? What kind of awesome plants did you put in your terrarium? Share your results with us in the comments below. We love seeing your projects!
Resources:
Texas A&M University: Benefits of Plants in the Home
Tree Hugger-Five Health Benefits of House Plants
Home Guides-Is Charcoal required in a terrarium?
 
Categories: How-To's, Upcycling and DIY, Going Green
/