Shopping Cart
Your Cart is Empty
There was an error with PayPal
Click here to try again
Thank you for your business!
You should be receiving an order confirmation from Paypal shortly.
Exit Shopping Cart
| | |
| --- | --- |
| Posted on May 1, 2017 at 11:45 AM | |
Tortellini, the bite size beautiful little pastas, are one of my favorite dishes. The incredible stuffed, perfectly tender rolled pasta has come to be known as a symbol of Bolognese cooking, as it combines the two specialties of Bologna. That's not to mention that Bologna is where this dish originated. Some say the goddess Venus stay at an inn at the outskirts of town. As she slept, the innkeeper tried to catch a peek of her through the key hole. He was so enraptured by the sight, even though it was just her belly button, that he set out to make a pasta in the image of what he saw through that hole. Others say it was a Borgia that caught the eye of the innkeeper. Whatever the case may be, we are happy SOMEBODY came up with these bite sized little pieces of bliss.
The craziness of the origins of this dish aside, we were trying to figure out what to make for meat free Monday last week. We hadn't had tortellini in a while and my fiancé suggested it just as I stopped on a recipe on Pinterest (looking at my phone). So, tortellini it was! To be upfront, I'm getting pretty darn exhausted with how many recipes on Pinterest are now using cream cheese. It's completely unnecessary for a lot of recipes, completely ruins others, and is really just getting annoying at this point… That being said, this one is actually pretty awesome. Super rich, super creamy, and super delicious.
Click here to check out the original. For the version I made, keep reading on!
Creamy Spinach Tortellini
Serves: 4 people
Prep time: 5-10 Minutes
Cook Time: 20 Minutes
Ingredients:
-1½ 20oz packages Tortellini
-1 8oz package Cream Cheese
-1¾ cups Vegetable Stock
-5 cups Fresh Spinach Leaves, loosely chopped
-1½ cups Shredded Cheese
-1 small White or Yellow Onion, diced
-2 small Cloves of Garlic, minced
-1 tablespoon Oil
-Dash of Cayenne Pepper
-Salt and Pepper to taste
Directions:
First, add oil to a large skillet and place on medium-high heat. In a pot, cook your tortellini per package instructions. Dice your onion and mince the garlic, and add that to the skillet. Sautee for about 5 minutes, stirring frequently, until the onions start to soften. Add the vegetable stock, cayenne, salt and pepper to the skillet and simmer for about 8 minutes. Next, add the cream cheese and spinach to the skillet, and simmer just until the cream cheese has melted. Be sure to stir frequently.
Preheat oven to 350⁰F. Once the sauce has completely melted and combined, mix in the tortellini. Be sure to really get it all mixed together in the sauce! Now just sprinkle the shredded cheese all over the top and bake for 5-8 minutes, or until all the cheese has completely melted. Remove from oven, let cool 5 minutes, and serve hot!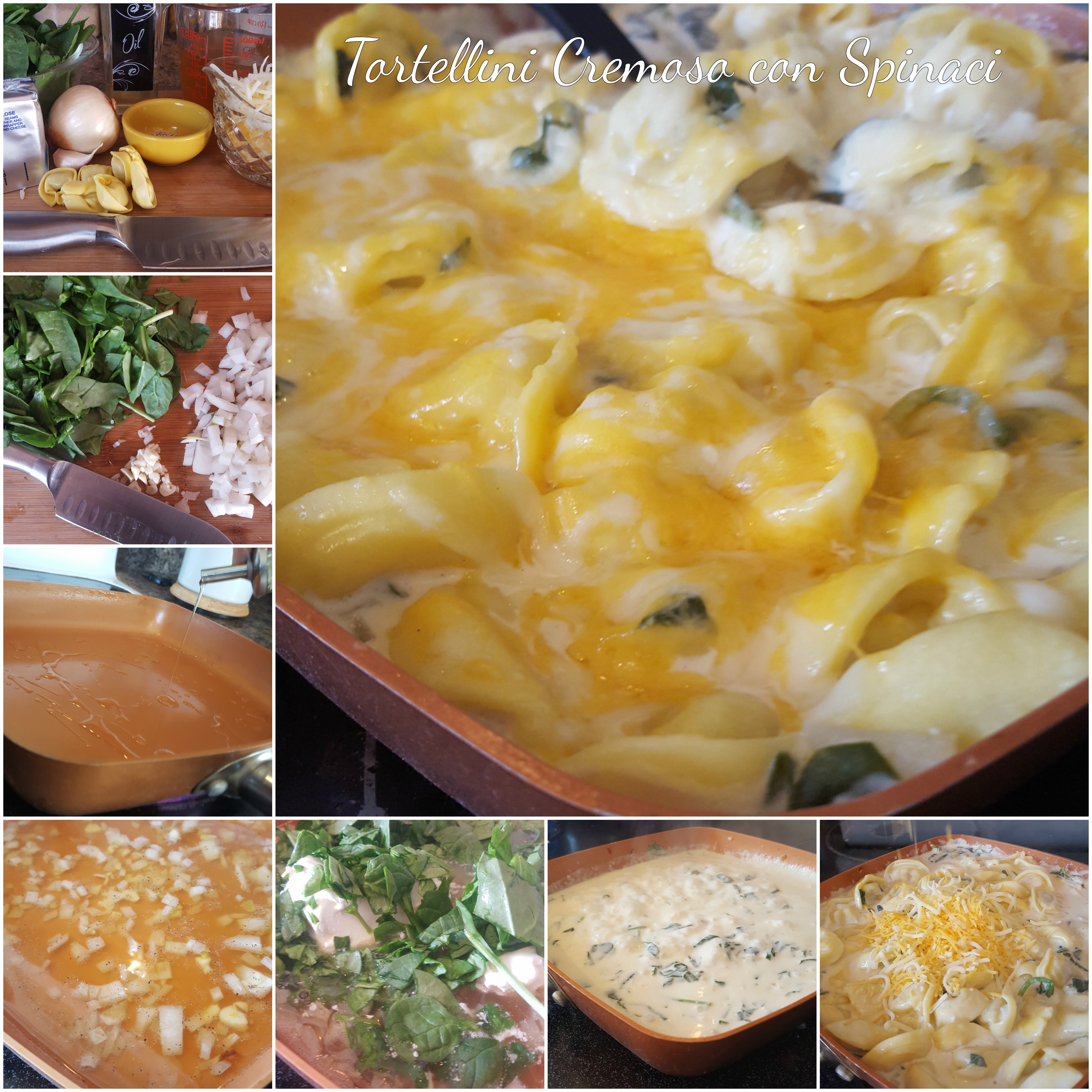 Project notes:
For this dish, I used a full package of three cheese tortellini and a half of a package of porcini mushroom tortellini. The porcini mushrooms have kind of a strong flavor, so this combination helped to even things out a bit. We also decided that this would be a good opportunity to use some of the cheeses in our fridge, so this dish contained over 12 different cheeses! Notice the opportunities to use leftovers here? You can add basically any vegetable you want into the sauce and still have an incredible flavor!
How did your dish come out? What changes did you make to the recipe? Share your results with us in the comments section below. We love seeing your projects!
CJ @ Children of Terra-NEO
Resources:
Cooktoria-Creamy Spinach Tortellini
Joy of Kosher-National Tortellini Day fun facts
 
Categories: In the Kitchen, How-To's, Going Green
/