Shopping Cart
Your Cart is Empty
There was an error with PayPal
Click here to try again
Thank you for your business!
You should be receiving an order confirmation from Paypal shortly.
Exit Shopping Cart
| | |
| --- | --- |
| Posted on June 13, 2017 at 11:20 AM | |
It seems like it's been a while since we've explained why we do Meat Free Mondays. Lately, I've found myself having to try and explain the concept to friends and co-workers (many of whom are meat-fiends). Some understand it, some are adopting the idea themselves, and yet some are still either completely lost to the idea or have no sense of personal responsibility to the environment.
So why do we participate in Meat Free Mondays? To put it simply, it's a small step towards a not only a healthier planet, but a healthier you. All arguments over animal rights aside, the meat industry does a lot of bad for our planet. If you don't believe me, you've probably never really thought of the process of growing meat in detail.
Let's use beef as an example. An average beef cow will consume somewhere around 16,000 pounds of feed per year. Before we go any further, we first must take a step back and look at the production of feed. Think about the amount of water used to grow the grains used in feed. Next, think about the carbon emissions produced from growing, harvesting, and transporting the grains. Then think about the water and carbon used to process dry feeds….. that's a lot of carbon being emitted and a lot of water being used, and we haven't even gotten to the cow yet. Now think about the amount of water required per year to keep an animal that size hydrated, as well as the carbon emissions related to the proper care of the cow. Add to that the greenhouse gasses produced as a byproduct of bovine digestion (yea, poop).
This really seems to be adding up, huh? Now factor in the resources used and carbon emissions related to taking this one cow to slaughter… According to a U.C. Davis study, it takes about 440 gallons of water to produce just one pound of beef. According to the Environmental Working Group, the production of one pound of beef results in around 30 pounds of carbon emissions into our atmosphere. All for just ONE POUND of beef. Seems outrageous, right?
This is why we take part in Meat Free Mondays. If changing our diets for even just one day a week can help offset such a heavy use of resources and production of carbon emissions, then why wouldn't we? And don't worry, I get where a lot of the meat-fiends are coming from. I've been in restaurants for well over a decade, and I've seen and tasted some the most incredible meat dishes. In that time, however, I've found just as many, if not more, meatless dishes with flavors that are absolutely out of this world. There's even meatless products out there that taste and feel like real meat, if you can't figure out how to make them yourself.
A lot of our readers are already vegetarian or vegan, but to those who aren't: We respectfully request that you make a change. Even if it's just a one day a week, you're making a difference with your decision to refrain from eating meat.
That being said, let's bring our attention to this trio of recipes further down the page. For this MFM post, we are giving you enough recipes to make a full three course meal out of meal out of. Ready to learn how to make the sauce, the eggplant, and the mushroom cake?
The Sauce
The sauce is a variation on the sauce that my grandfather taught me how to make. This version has a few different ingredients and is crafted to be made in a slow cooker, allowing for more time to make your other food as well as ease the ease of cooking.
Serves: 4 people
Prep time: 5-10 Minutes
Cook Time: Slow cooker-2 hours, in a pot-45 minutes
Ingredients:
-1½ lbs. vine ripened tomatoes
-Large handful of basil, chopped
-Small handful chives, chopped
-½ sweet white onion, diced
-4 cloves garlic
-¼ cup red wine
-¼ cup honey
-Salt and Pepper to taste
Suggested equipment:
Food processor, blender, or hand mixer
Directions:
If you have a blender or food processor: start by blending the tomatoes, onion, and garlic together. Then add together with all other ingredients in the slow cooker.
If you do not have a blender or food processor: Dice your tomatoes, then add all ingredients to the slow cooker.
Cook on low for 3½-4 hours, being sure to stir occasionally. If you did not blend your sauce beforehand, use a hand mixer to do so now. Make sure to taste test your sauce and add more honey or salt and pepper if needed. That's it! If you're cooking in a sauce or stock pot instead of a slow cooker, follow the same instructions, cutting down your cooking time. This is likely one of the easiest and most delicious sauce recipes you might ever try!
The Eggplant
Normally I'd fully bread and fry eggplant for eggplant parmigiana, but after talking with an extremely helpful waiter at a high-class Italian eatery recently, I decided to try something different. The following recipe produces a much lighter dish, without all of the grease and nowhere near as many carbs.
Serves: 4 people
Prep time: 5-10 minutes
Cook time: 30-45 minutes
Ingredients:
-2 large eggplants
-Light egg mixture (2 egg whites, 1 whole egg)
-1½ cups flour
-Pinch of garlic powder
-Dash of Salt and Pepper
-1/2 cup grated or shredded parmesan cheese
Directions:
Preheat oven to 350⁰F.
Slice the eggplant thin (about ¼" to 1/8"). In a small bowl, mix the four, garlic powder, salt, and pepper well. Lightly coat the eggplant in the egg mixture and lay on a lightly greased baking sheet. Place in the oven for 15 minutes, then flip your eggplants and continue cooking for another 15 minutes. You may need to cook your eggplant longer to obtain a nice crispness.
5 minutes before pulling your eggplant out of the oven, top each slice with a sprinkle of parmesan cheese. When done, let cool for 5 minutes. Top with sauce and a another little sprinkle of cheese and serve!
The Cake
I've seen crab cakes, salmon cakes, beefcakes, and sweetcakes. I've also seen mushroom burgers at quite a few joints. At some point recently, while making mushroom perogy filling at work, the idea finally crossed my mind to just downsize a mushroom burger and serve it as a "cake." Check it out!
Serves: 4 people
Prep time: 15 minutes
Cook time: 15 minutes
Ingredients:
-4 large portabella mushrooms
-½ cup shredded cheddar cheese
-2 cloves of garlic, minced
-1/2 cups seasoned bread crumbs
-Salt and pepper to taste
-Flour (to coat the outside of the cakes)
-3 tablespoon cooking oil
Directions:
Wash your portabella caps, then slice or dice them. It doesn't really matter how you cut them, so long as the pieces they can cook through. Heat a pan over medium to high heat. Add 1 tablespoon of oil and mushrooms, and Sautee until the mushroom slices are very tender. Remove the mushrooms from the pan and let cool. Next, either transfer your mushrooms to a food processor and lightly grind, or break the coked mushrooms into tiny pieces by hand. Mix in cheese, bread crumbs, garlic, salt, and pepper. Next, form into 4 cakes or patties, about the size of your palm.
Heat a sauté pan to medium-high heat. Add the remainder of the oil to the pan. Lightly coat the cakes in flour and fry until both sides have a nice crisp to them. Remove from pan, top with sauce and a sprinkle of parmesan cheese, and serve.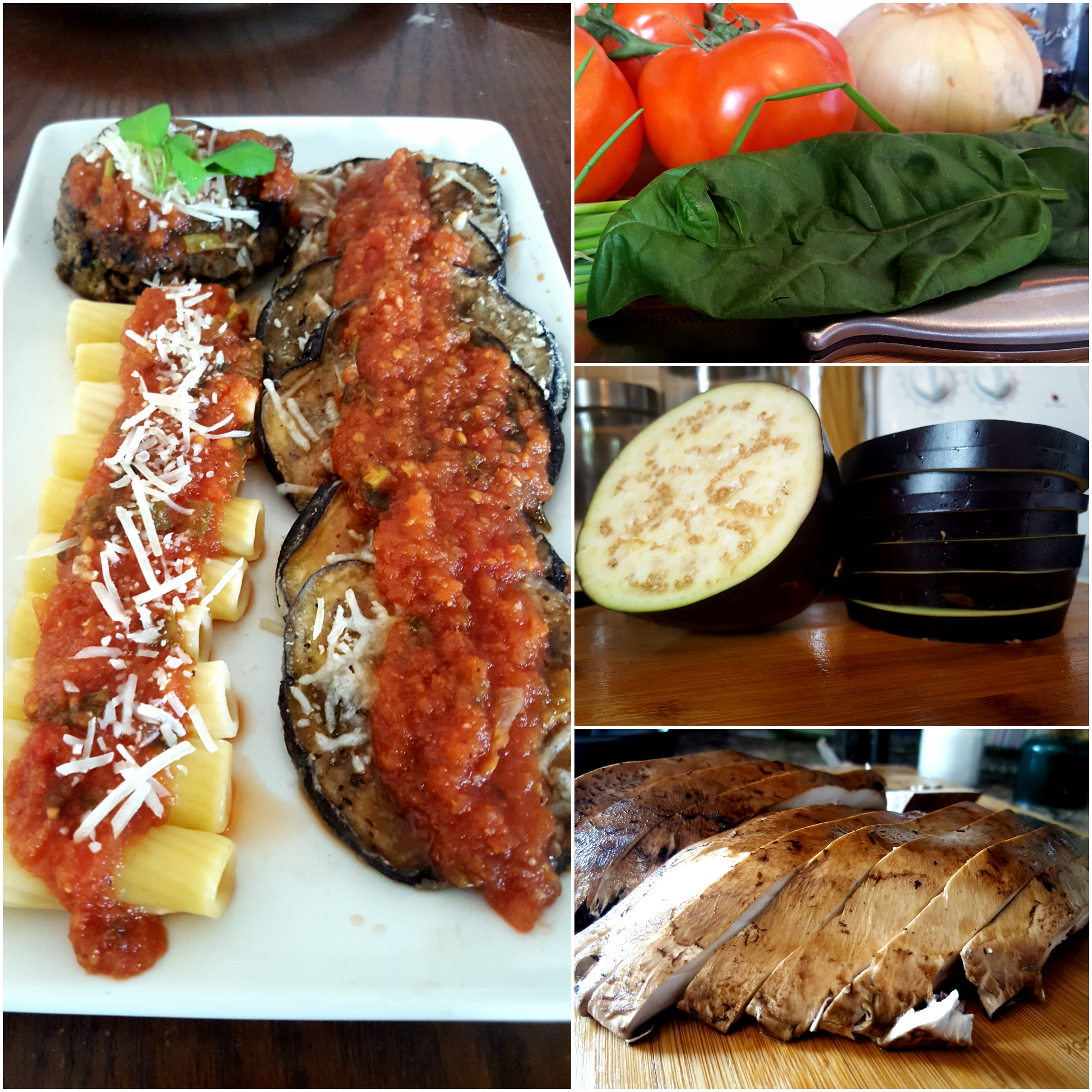 That's it! Three full courses, three easy recipes, and all meat free. If you're going for vegan, don't fret! Just cut out the cheese and replace the egg with a vegan friendly alternative.
And PLEASE be sure to check out Meat Free Mondays, and even start participating yourself! All change starts with us. If we can better the world by changing how we eat for even just one day, why wouldn't we?
Resources:
https://www.meatfreemondays.com/" target="_blank">Meat Free Monday
Alberta Department of Agriculture-How much will my cow eat?
Environmental Working Group: Meat Eaters Guide
 
Categories: Going Green, In the Kitchen
/