Shopping Cart
Your Cart is Empty
There was an error with PayPal
Click here to try again
Thank you for your business!
You should be receiving an order confirmation from Paypal shortly.
Exit Shopping Cart
| | |
| --- | --- |
| Posted on October 3, 2017 at 1:30 PM | |
The weather is changing, days are getting colder and sunset is coming earlier. Fall is upon us, and for some reason this time of year makes me want to sleep all day and eat comfort food… I can't sleep all day, but I CAN make some hearty comfort food. Better yet, it's vegetarian! Even better still is it's really easy, and you can make it yourself!
My go-to comfort food this time of year is usually an egg noodle dish. I haven't really been satisfied with just regular egg noodles, so I decided to mix it up and try making a dish with pappardelle egg noodles. These long, broad noodles are named for the Italian word "pappare", which translates to "gobble" (as in gobble up). Gobbling these noodles is easy to do with their slightly chewy and light texture, and incredibly rich flavor! For this Meat Free Monday recipe, we'll compliment the rich flavor of the noodles with the boldness of portabella mushrooms and the wonderful texture of spinach.
Creamy Mushroom and Spinach Pappardelle
Serves: 4 people
Prep time: 10 minutes
Cook Time: 20 minutes
Ingredients:
-2 cups Sliced "Baby Bella" mushrooms
-2 cloves Minced Garlic
-3 tablespoons Butter
-3 tablespoons All-Purpose Flour
-1/2 cup diced Sweet White Onion
-A few sprigs of Thyme
-1½ cups Vegetable Broth
-½ cup Heavy Cream
-10 ounces Spinach, chopped
-Salt and Pepper to taste
-9 ounce package Pappardelle Egg Noodle
Directions:
In a medium-large pot, cook your noodles according to package and set them aside. In a large pan, start by melting your butter down over medium-high heat. Add mushrooms, onions, and garlic. Sautee until mushrooms are slightly tender and onions start to become translucent. Add thyme, salt and pepper, and flour. Mix quickly and cook flour until it turns a golden brown color, being sure not to let it burn to the pan.
Add vegetable broth and spinach, and quickly whisk flour into the liquid. Let this mixture simmer for two minutes, then slowly whisk in the heavy cream. Let simmer, stirring constantly, for two more minutes. Add pasta, mix well, serve, and enjoy!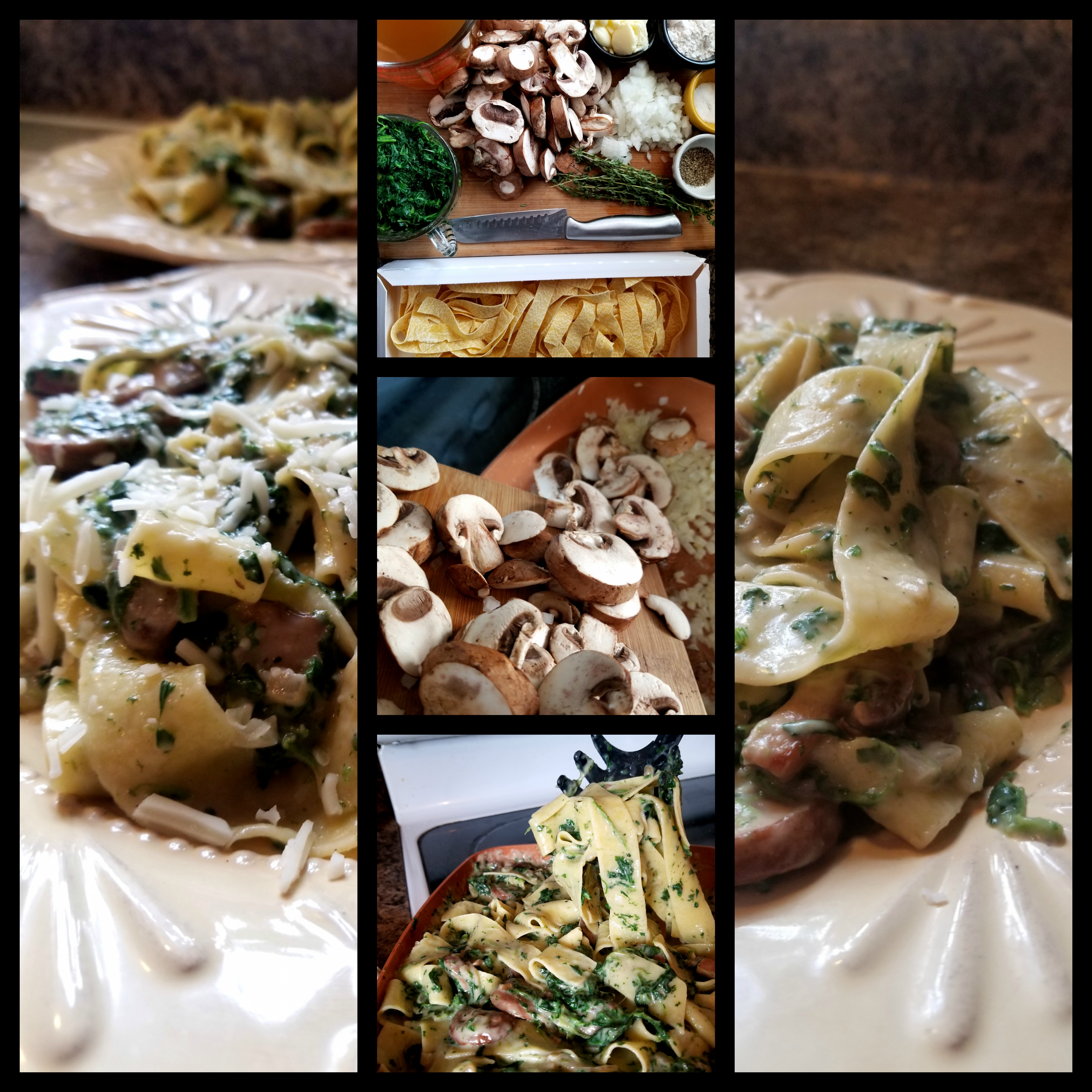 Recipe Notes:
Make this recipe vegan with three simple changes:
-Choose a different, vegan friendly noodle.
-Replace butter with vegan-friendly "butter" or margarine.
-Replace the heavy cream with plain soy or almond milk.
Honestly, the almond or soy milk substitution gives a completely awesome and completely different flavor to the dish, whether you're eating vegan or not.
As for ingredients, you can use any kind of mushrooms you want for this dish, including canned if you're budget is too tight for fresh. The same goes for the spinach. Canned or frozen can easily be subbed if it might be more convenient or if it meets your budget restraints more easily. In fact, the dish in the photos above used frozen spinach! All in all, this dinner should run you less than $20, even with everything fresh. I was able to do it for less than $13 at our local "higher end" market.
How'd your dish come out? Did you change anything in the recipe? Let us know in the comments section below! We love seeing how all of your projects turn out!
CJ @ Children of Terra-NEO
Resources:
WiseGeek-What is Pappardelle Pasta?
https://www.reference.com/food/pappardelle-pasta-95591a2ca7cf57f4" target="_blank">Reference.com-What is Pappardelle? 
 
Categories: In the Kitchen, How-To's, Going Green
/