Shopping Cart
Your Cart is Empty
There was an error with PayPal
Click here to try again
Thank you for your business!
You should be receiving an order confirmation from Paypal shortly.
Exit Shopping Cart
| | |
| --- | --- |
| Posted on May 1, 2018 at 2:15 PM | |
Pizza is one of those dishes with a long and detailed history. Generally believed to have come from the area of Naples, pizza started as the food of choice for the working poor of the 17-1800's. A simple flatbread, topped with whatever you had available, was a great source of energy and nutrition for the "lazzarone". As years went on and pizza spread across the globe, different cultures and generations each added their own styles and ingredients. Here in the U.S, we eat pizza hot or cold, day or night. Of course, with all of the various melting pots of culture throughout the country, there's no shortage of ingredients and styles to try out. While modern traditionalists may scoff at some of the pizzas we love nowadays, I think these crazy combinations of dough and toppings are the best modern interpretation of the dish. Their cheap, easy to eat sustenance for the working class.
This recipe follows that theme. It's budget friendly, super easy, and is great to grab anytime without any need to re-heat or prepare once it's done!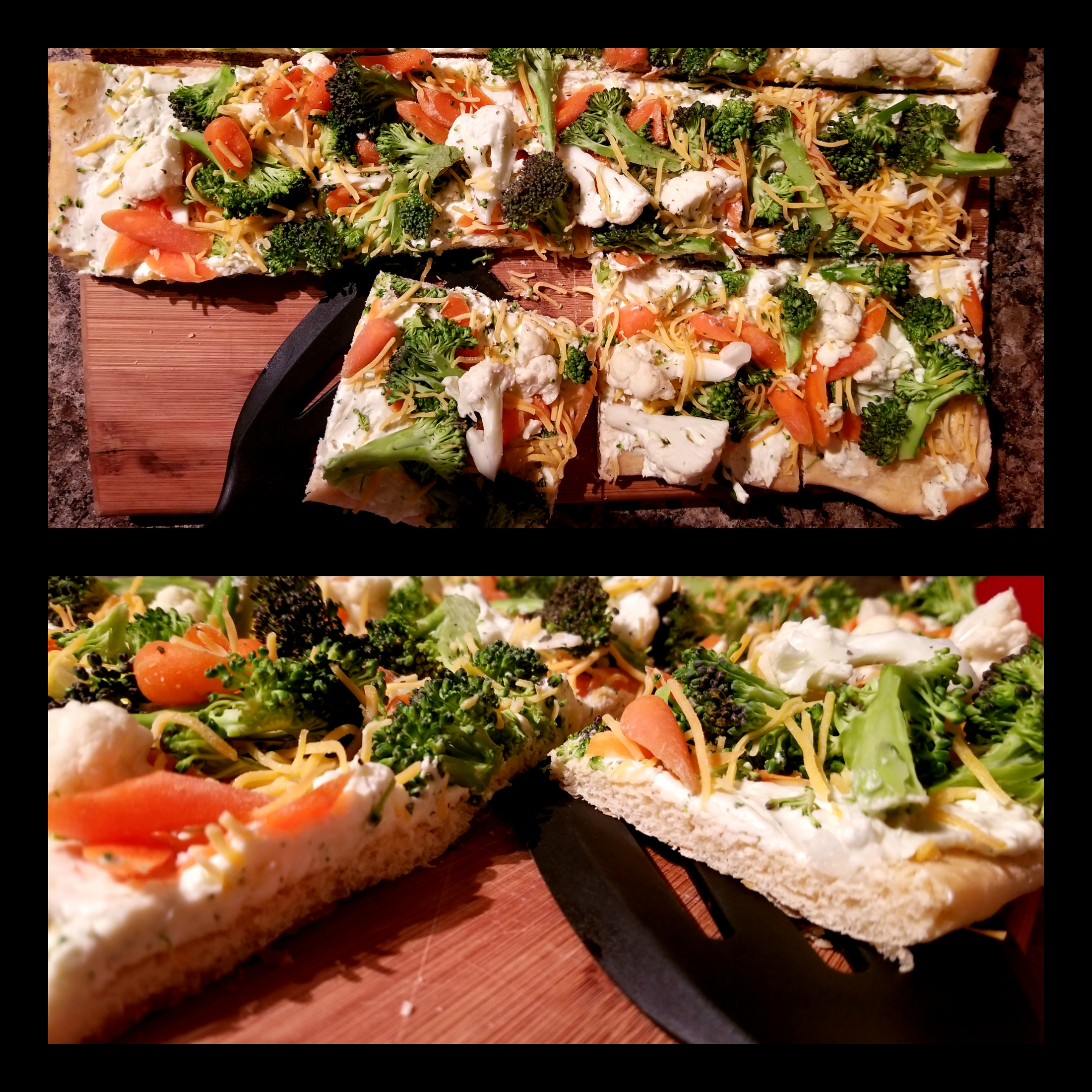 Cold Vegetable and Ranch Pizza
Vegeterian
Serves: 8 people
Prep time: 30 minutes
Cook time: 10-15 minutes
Ingredients:
-¼ cup Broccoli Florets, chopped
-¼ cup Cauliflower Florets, chopped
-¼ cup Carrots, thing sliced or shredded
-1 clove Garlic, minced
-1 packet Ranch Seasoning Mix (1oz)
-2 cans Crescent Roll Dough Sheet
-2 8oz. packets Cream Cheese
-½ cup Sour Cream
-1 dash Ground Black Pepper
-2 cups shredded cheese
Directions:
First, bake crescent roll sheets according to package. When the dough sheets are done baking, set them aside to cool. While sheets are baking, mix together garlic, ranch seasoning, cream cheese, sour cream, and pepper. Place the mixture in the fridge and let set for at least 30 minutes. To assemble, place a generous but even layer of the ranch mixture on the baked sheets. Top with cut vegetables and a heavy sprinkle of shredded cheese.
That's it! You can either serve immediately, or store in the fridge. These pizzas make great appetizers at parties, a great dinner on a hot summer night, or a nice snack in the middle of the day's activities!
Notes:
This dish is so easy to make, and even easier to modify! Add some diced red peppers, or mushroom slices, or grape tomatoes, or cucumbers. You can add whatever vegetables you'd like! Feeling a different flavor for the sauce? Try a French onion packet, or a dill dip packet. Want a lighter, flakier crust? Try it with puff pastry instead of crescent dough. There's so many options! Even the cheese is entirely at your discretion. I added a light sprinkle of grated parmesan before topping the pizza with veggies, then hit it with a sharp cheddar and mozzarella mix at the end.
 
How did your pizza come out? What ingredients did you use? Let us know in the comments section below. We love seeing how your culinary creations come out!
CJ w/ Children of Terra-NEO
Resources:
https://www.merriam-webster.com/dictionary/lazzarone" target="_blank">Merriam Webster: lazzarone
https://www.history.com/news/hungry-history/a-slice-of-history-pizza-through-the-ages" target="_blank">History: Pizza through the ages
https://www.salepepe.com.au/seaforth/what-makes-an-authentic-italian-pizza/" target="_blank">Sale Pepe: What makes an authentic pizza? 
 
Categories: In the Kitchen
/