Shopping Cart
Your Cart is Empty
There was an error with PayPal
Click here to try again
Thank you for your business!
You should be receiving an order confirmation from Paypal shortly.
Exit Shopping Cart
| | |
| --- | --- |
| Posted on May 15, 2018 at 2:40 PM | |
If you've ever taken the garbage out (which, who hasn't?), you have a good idea of how nasty our trash can get. It smells gross, it looks disgusting, and tends to have all manner of horrifying fluid leaking from it. Most of us are just happy when the garbage truck comes and takes it away, because all of that nastiness is gone… right? Have you ever thought about where that truck takes our garbage though?
Most cities have some form of a waste disposal site. Some places choose to destroy our garbage with fire, such as in Norway. There, they incinerate a large portion of their waste to produce energy. Other places are experimenting with biological digestion, a method that involves live organisms breaking down our waste. In places more effected by poverty, people may just dump their trash into the ocean or into the ground. Here in the U.S., the most common method of waste disposal is the use of landfills or dumps. Each method of waste disposal comes with its own risks and environmental concerns that must be accounted for by society.
Some places still use the ol' fashioned "dump". A dump is essentially a giant hole in the ground where trash is dumped, and then eventually covered with soil to let degrade over time. While this sounds like a good idea, it doesn't do much to protect the surrounding environment. The fluids and chemicals that result from the decomposition process can contaminate the surrounding soil or water, and does nothing to address physical issues like plastic or Styrofoam mixed into the waste. And that smell! UGH! That smell is awful! As our waste breaks down, it produces a mixture of gasses. These gasses are what you're smelling, and they are contributing to the climate crisis we are currently facing.
The more modern and increasingly common method is the landfill. A landfill is a man-made structure built with the idea of letting trash break down naturally, while reducing major risks to the surrounding environment and reducing gas emissions. Let's learn how they work!
 
The structure of a landfill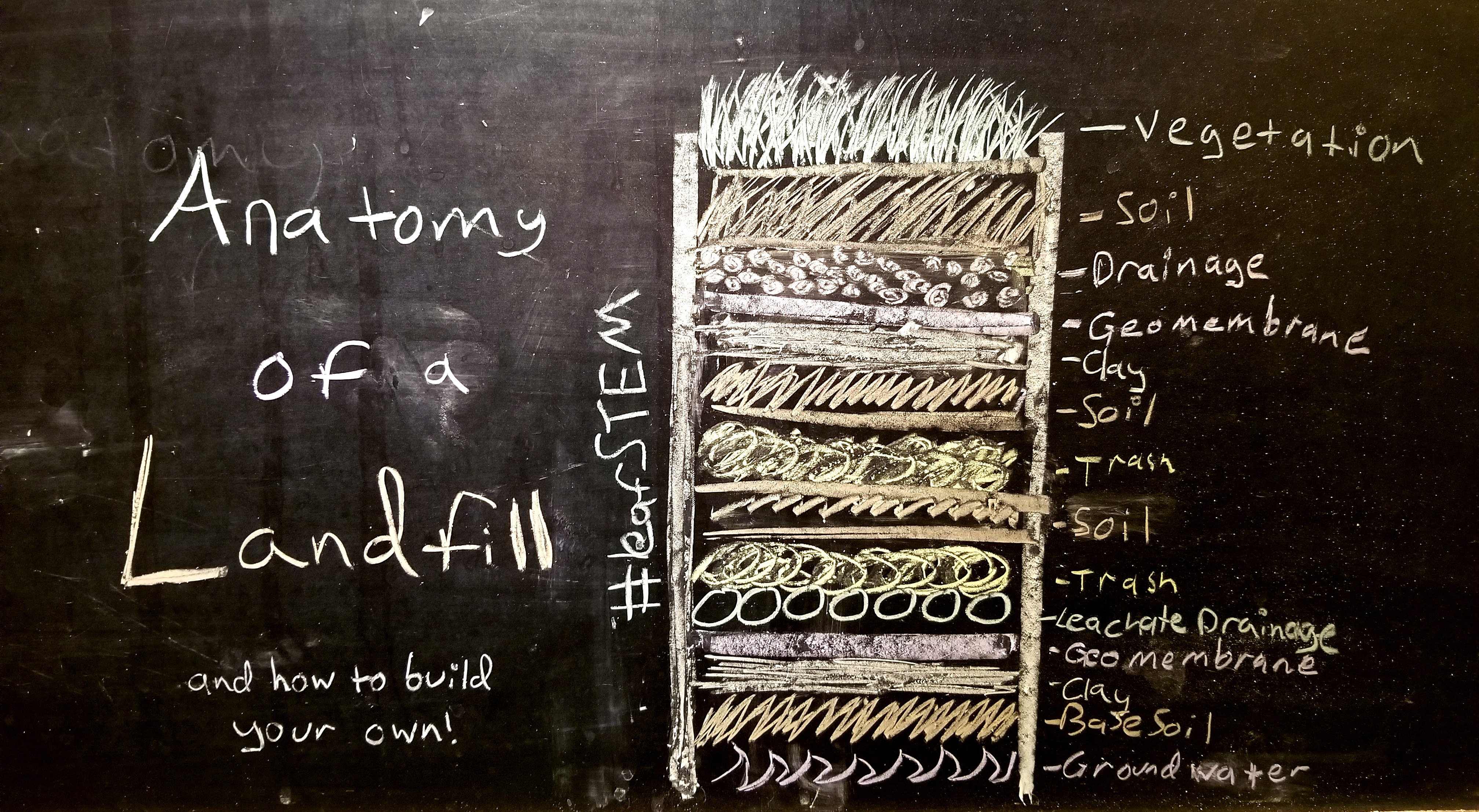 -Started from the bottom…
The bottom of a landfill is usually covered with a special type of liner. Sometimes this liner is a special type of plastic, other times it's extremely compacted clay, and in some places it's a combination of both! This layer protects the soil and water underneath and around the landfill from coming in contact with our trash.
-Fate of the Leachate
Leachate is the term used for the juices and fluids that ooze out of our waste. Landfills are designed with a slight slope at the bottom (called a sump), so as to collect the leachate into certain areas. The leachate is collected through a series of pipes to be moved out of the landfill. These collection pipes are often covered in a special mesh to filter out the larger particles that could clog up the system. Once the leachate has been moved out of the landfill, it is treated either on site or at a wastewater facility to be used again.
-Perfect Cell?
A cell is an area in the landfill that has been approved for disposing of our waste. Cells tend to be pretty large areas, but are broken down into smaller cells known as the "daily workface". Each daily workface cell represents one day of waste.
-Feeling a little gassy…
As mentioned earlier, landfills produce a mixture of gasses. While most of those gasses contribute to the climate crisis, they can also cause a more immediate crisis if they aren't released or removed. Around 50% of the gas mixture is methane, which can burn or even explode if left unchecked. To keep the gasses under control, pipes are specifically placed to vent them out and collect them. Most landfills simply burn off or vent out the gasses, however some are collecting the gas to use as a source of energy.
-Cover it up!
Each daily cell is covered with either a layer of soil or a special sealant, though sometimes both may be used. It all depends on the cell and its situation. Sometimes cells need some time to break down certain materials before more are added, and will receive a temporary cover. Once a section of the landfill is finished, it is permanently covered. This cover generally consists of a layer of special plastic, compacted clay, loose soil, and plants. The plants help prevent erosion and aid in the long-term cleanliness of the water and soil in the area.
-Keep an eye on it
Whether the landfill is finished or just getting started, it's important to keep an eye on what's happening in it. While we can't see the chemicals that might seep into the soil and water around the landfill, we have technology that can! That's why most modern landfills have special monitoring stations that have access to and test groundwater both inside the landfill and out.
With a better understanding of what a landfill is and how it works, it might be easy to see that there are risks involved in this method of waste disposal, as there is with any method. Gasses contribute to climate change and air pollution. Leachate fluids and chemicals pose a risk to our health, our water, our soil, and our wildlife. The nature of landfills tends to attract a lot of wildlife, posing a risk to both them and us. For these reasons and more, it's important to be smart about our waste! But before we get into all of that, let's make a working model of a landfill for you to experience the process for yourself!
 
Build A Desktop Landfill Model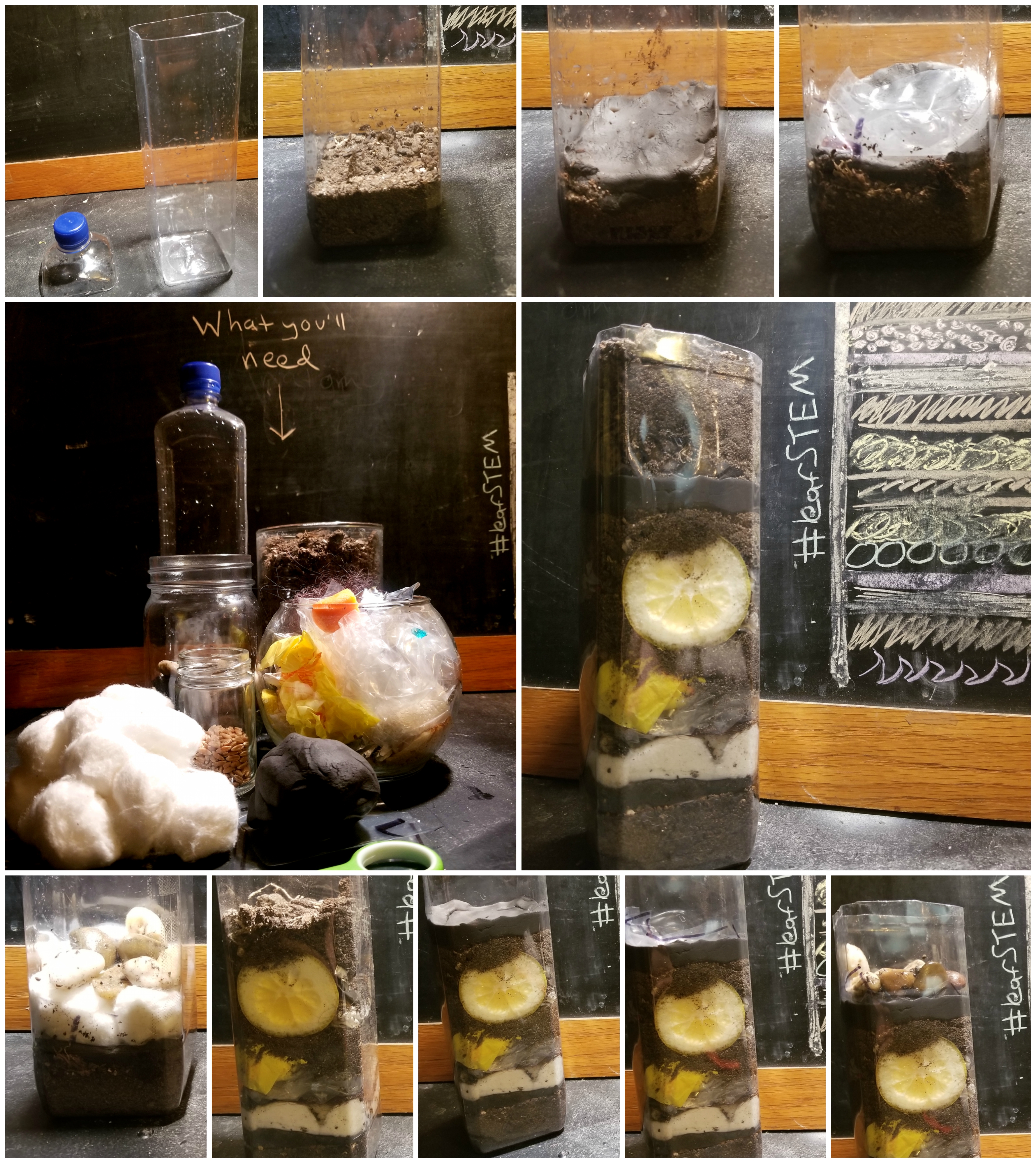 What you'll need:
-A tall, clear bottle or glass container
-Soil
-Rocks or gravel
-Cotton balls
-Clay
-Some plastic sheeting
-Some household trash
-Scissors
-Water
Directions:
The landfill model we'll be making will only contain two cell, or two daily workfaces, with the ground layer and top layer. To start, cut the top off of your bottle (if you're using a bottle).
The bottom layer of the model will represent the ground underneath the landfill. To do this, just add some soil. Next, to represent the seal at the bottom of the landfill (also called a geomembrane), we'll be adding two more layers. Start with a layer of compacted clay, and try to seal it to the sides of the container. Next, place a wide layer of plastic sheeting over the clay. To represent the leachate collection pipes and special fabric or mesh filter, we need to add a layer of cotton balls. On top of this, there needs to be a drainage layer made up of gravel or sand.
After constructing the base layers, it's time for the cells! First, add a layer of trash. Make sure you have a good mix of trash, and as much of it as possible is visible from the outside of your container. Compact this layer down, and add a layer of compacted soil on top. This is your first cell! We did two cells with our container. You may only be able to do one, you may be able to do three or more. Just make sure to leave room for the top layers!
Once you're don't with the cells, it will be time to seal the landfill off. This is going to look a lot like the bottom layers of your landfill. On top of the soil, add a layer of compacted clay. Again, try to seal the clay to the sides of your container. Next, add another layer of plastic sheeting (or geomembrane). On top of that, you'll need a drainage layer with gravel. Here's where things change from the bottom layers, though.
Add a layer of soil, but don't compact it. Next, plant your seeds! Grasses work best for this project, but you can grow anything you'd like. Just be certain your container will be large enough to suit your plants. Add some water for the seeds, and we're done constructing! Now find a good spot for your landfill to sit, keep the plants watered, and watch the process of decomposition take place in your landfill over the next few months, or even years!
What can we do about landfills?
The more we learn about landfills, the more concerns can be found in how they might affect the environment. So what can we do about landfills? Here's a few suggestions!
-Reduce, re-use, recycle!
We say this a lot, but it's the most fundamental mantra of caring for the environment. By cutting out the unnecessary things in our lives, we can reduce what goes into the landfills in the first place. Re-use is important, too! By re-using everyday things (such as using homemade soaps in reusable containers or shopping at bring-your-own-bag style stores), we can also help reduce what goes into the landfill. Recycling is the last part. By properly recycling those things we can't reduce or re-use, we can help keep even more trash out of our landfills and out of the environment!
-Visit your local landfill
A lot of city landfills, and even some privately-owned ones, offer tours of the facilities. The best way to understand a landfill and the issues surrounding them is to see them in action! Be sure to ask a lot of questions about how they manage their wastewater, gas emissions, pollution, hazardous materials, and anything else you can think of!
-Contact your local lawmakers
The best method of making change is by way of citizen action. Start by contacting your local representatives to express any concerns you have about the landfills in your area. See what's being done, or what could be done to address possible environmental risks.
 
Project notes:
This is just one type of model that can be made to represent a landfill. Modifications may be made to this model (such as adding straws for leachate drainage or as a gas vent), or a better material as a geomembrane. Sand could be used in the drainage layers. You can do a flat model rather than a standing model. As long as you build your model according to the basic structure of a landfill, there's so many options and styles of model you can build!
 
What have you learned about landfills? What kind of rubbish did you put in your landfill model? What changes did you observe in your model? Let us know in the comments below!
CJ w/ Children of Terra-NEO
Resources:
The Guardian-How Norway is Turning Trash into Cash
The Constructor-Methods of Solid Waste Disposal and Management
Advanced Disposal-Learn About Landfills
US National Library of Medicine-Health effects of residence near hazardous waste landfill sites
Science Daily-Methane more potent than CO2 as a greenhouse gas
 
Categories: leafSTEM: Connecting Science, Tech, Engineering, and Math with the Environment, Eco-Fun Kids Corner, Upcycling and DIY
/