Shopping Cart
Your Cart is Empty
There was an error with PayPal
Click here to try again
Thank you for your business!
You should be receiving an order confirmation from Paypal shortly.
Exit Shopping Cart
| | |
| --- | --- |
| Posted on January 27, 2020 at 5:35 PM | |
I had a friend growing up that, like most kids, was fond of collecting things. Unlike the other kids, who were collecting the hottest trading cards or newest video games, he liked to collect bugs. Any time he found a dead bug, he'd take it home and add it to his collection. Of course, some of the other kids in our group would make fun of him. I loved going on a bug hunt with him, though. Every trip we took, I'd learn something new from him. Until I met him, I had no idea of the diversity of invertebrates we had in Ohio. Sometimes it would be mind-boggling!
His collection methods often varied, depending on what he found. Some he would take home and pin on a special board that was kept under glass. Others he would save in a vial full of strong alcohol. His reasons for collecting often varied, as well. Sometimes they were for a display he planned to donate or sell. Sometimes they were for his own private collection. Now, almost twenty years later, he's an entomologist (a scientist that studies insects). He still has his collection, and some of his childhood specimens have actually helped him in his studies on how climate change is affecting local insect populations. And again, almost twenty years later, he's still teaching me new things.
Some of the soft-bodied insects he had preserved in alcohol got damaged over the years. Legs or antennae would fall off, body parts would get broken, and specimens would get destroyed simply by moving the vial they were in. They moved around too much in the alcohol solutions and would bump into the glass. Eventually he came across a solution to this issue, and after he shared it with me, I HAD to share it with everyone else. The incredibly simple yet rather genius solution was to use a gel hand sanitizer. The gel is thick enough that it acts as a suspension, locking the specimen into place within it. Keep reading to learn how to do it yourself!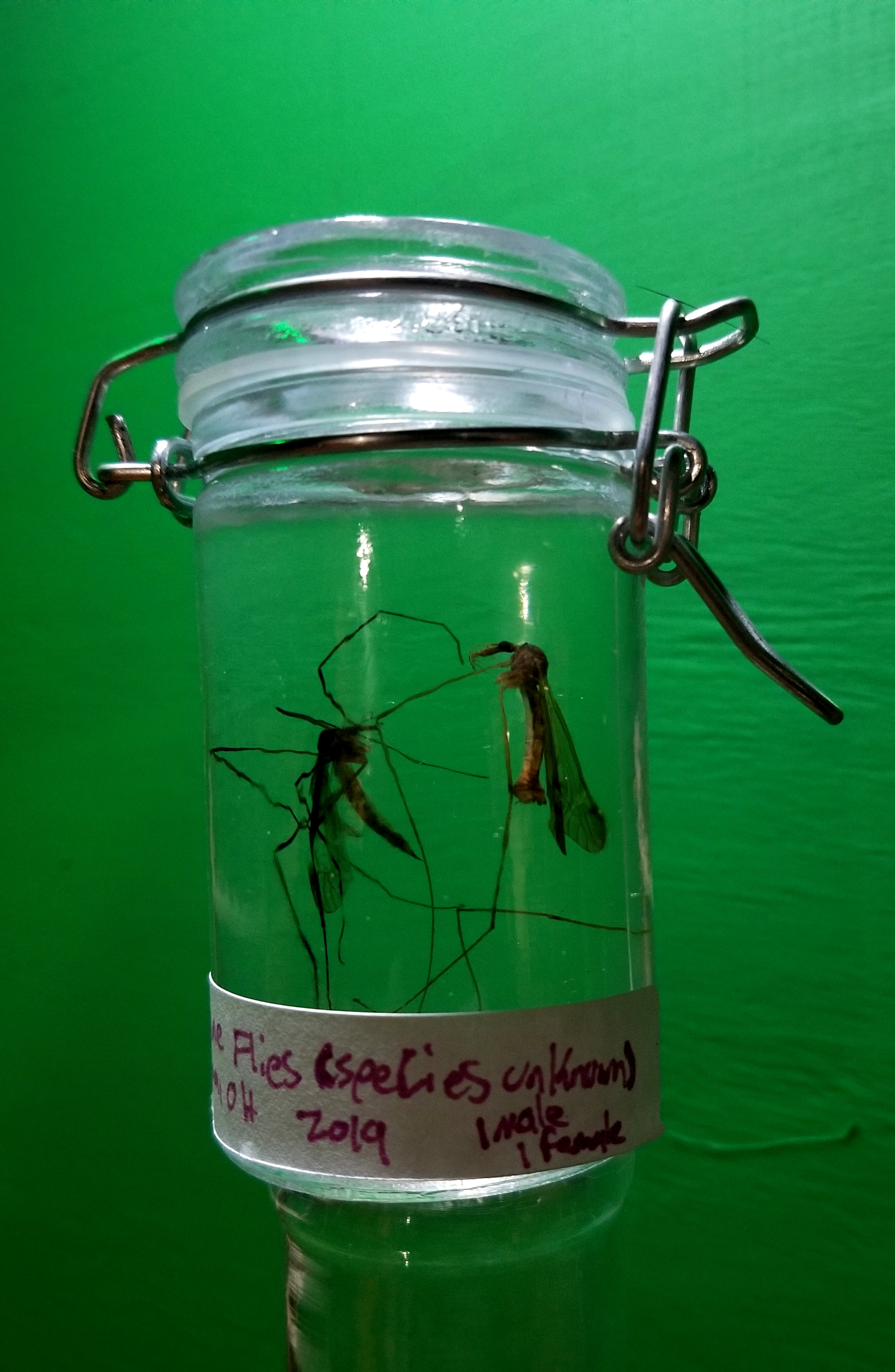 What you'll need:
A glass container with a tightly fitting lid (vials or heat/foodsafe jars work well)
Thick Hand Sanitizer Gel
A specimen (dead bug)
Tweezers
A small pot
Water
A stove or hotplate
A quick word on materials and safety:
When I say thick sanitizer gel, I mean THICK. If there's bubbles locked into the gel in the bottle it comes in, it should be thick enough. Using the thinner gels seems to result in the specimen degrading within a few weeks. Still, the thicker the gel, the better. Also, keep an eye on alcohol content. Any sanitizer that uses less than 72% alcohol will likely result in your specimen degrading. The higher alcohol percentages seem to work best.
Also in regards to the sanitizer gel, keep in mind that you are using flammable materials and heat. Be sure to exercise extreme caution and to take any necessary precautions ahead of time, such as safety clothing or preparing a fire extinguisher nearby.
What to do:
Fill your jar/vial just over ¾ of the way. Gently submerge your specimen into the gel. Don't worry about exact placement in the gel yet, as it will be much easier to pose them later on. Next, place your jar in a pot and will with enough water to come about halfway up the jar. Place the pot on medium heat and allow it to come to a simmer. DO NOT close the jar. As the gel starts to boil, pressure will build, which can make the jar explode if it's sealed.
Let the gel fully simmer for about 10-15 minutes. I've found that twelve minutes seems to be the sweet spot. Carefully remove the container from the boiling water and set it aside to cool. As it's cooling, use the tweezers to position the specimen where and how you'd like it in the container. Once the gel is cool enough-not runny or watery anymore, but still warm-top of the container with more gel. If you do this while it's too hot, the fresh gel on the top will develop a lot of bubbles. If you do it while it's too cool, the fresh gel will not lose the bubbles already in it.
Once you've filled the container to the brim will gel, seal it as tightly as possible. Some gel will likely run out as you're doing this, but this method will help prevent an air bubble from developing in the top of the jar that can later work its way into the gel. Clean off the outside of the container, let it finish cooling, and done! If you're keeping a specimen for a collection, you may want to add a label to the container with the species name, time and place of collection, and any other relevant information you may have on it.
Project notes:
This method, though similar, is actually very different from standard alcohol preservation. Standard alcohol preservation uses weaker alcohol and a water dilution. This method, due to the lack of oxygen, actually works better undiluted and with stronger alcohol.
If your first couple of specimens don't come out ok, don't get upset! It will take a little practice to get the method down just right, and things may work a little differently depending on the materials you're using. It may also take some experimentation to figure out what preserves the best. Hard-shelled beetles? May not work so well. Super-fragile crane flies? Works very well!
One last thing... for my preservations, I only use bugs that have died naturally and dried out on their own. Sometimes I'll find one in a light fixture, or in a windowsill, but I NEVER kill a bug for these preservations. There's a lot of debate over how ethical it is to kill bugs for preservation, whether it's done so humanely or not. These are tough and complex issues, and it's up to you to decide how you feel about them. We aren't here to judge, just to make science more interesting and easier to understand.
How did your gel preservations turn out? Share your results with us in the comments below! Or share your pictures with us on Facebook, Instagram, or Twitter. We love seeing how your projects turn out, and your input may help someone else be more successful in their attempts!
CJ w/ Children of Terra-NEO
Categories: How-To's, leafSTEM: Connecting Science, Tech, Engineering, and Math with the Environment
/