Shopping Cart
Your Cart is Empty
There was an error with PayPal
Click here to try again
Thank you for your business!
You should be receiving an order confirmation from Paypal shortly.
Exit Shopping Cart
| | |
| --- | --- |
| Posted on March 24, 2020 at 2:55 PM | |
It's a force that carves valleys, forms caves, and washes away nutrients in our soil. It also helps distribute crucial minerals and nutrients into the food chain and form majestic streams and rivers. Erosion is a natural force unlike no other, and must be considered for so many areas in our everyday lives. Erosion must be accounted for when building roads, bridges, and buildings. It plays a major role in field planning and daily operations of farms. It destroys while simultaneously creating. Erosions mighty power can kill, but is relied on by organisms on all levels of the food chain to survive and thrive.
There are ways of managing erosion, whether it's preventing it or directing it, though. The most preferred method is ground cover. Cover in the form of plant life or decaying matter (mulches, leaf litter, etc.) lessens the impact of falling rain on soil. It also helps to spread out and slow down water runoff, making the force of the water less damaging to the soil. These types of materials are often referred to as biomass.
Biomass is any living organism or material generated by those organisms decomposing in the soil. A proper balance of biomass helps create healthy soils that are more resistant to erosion. Not only that, but healthy soils mean healthier waterways. Many types of biomass help filter and clean water as it passes through the soil. It can also help the soil retain more water, making plant growth easier and taking some stress off of our watershed systems.
Believe it or not, there's actually a really easy way to see the effects of erosion with a tabletop experiment. Let's check it out!
Tabletop Erosion Model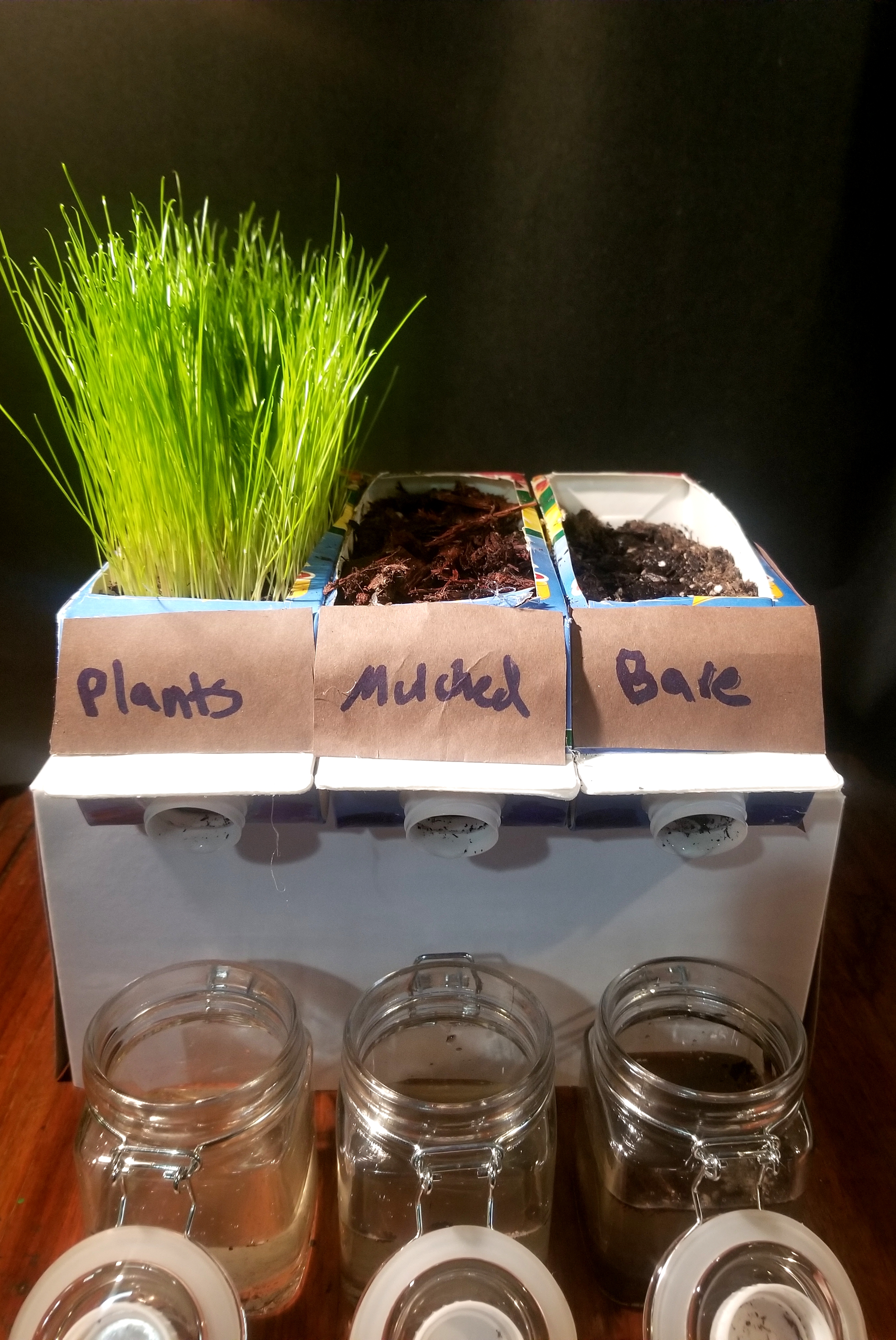 What you will need:
3 1qt cartons, clean
Scissors or a craft knife
Potting Soil
A Stapler
Grass seed, or some other plant
Mulch or leaf litter
3 clear containers, all the same size
Water
(optional)
Instructions:
First, place all of your cartons side-by-side. Make sure they are all facing the same direction, and that the spout is pointed down. Cut the long side (the one that's facing up) out on all three cartons, and staple them together. Fill all three with potting soil. Leave the first carton filled with nothing but dirt. In the middle carton, cover the top of the dirt with your mulch or leaf litter. In the last container, plant your grass seed.
Water all three cartons regularly, and allow time for your plants to grow. After a week or two, when the plants have grown a strong root system, it will be time to finish the project. Place your cartons on something tall enough to fit your clear containers under the spout. Take the lids off of each of the spouts, and place your clear containers underneath them to collect the water. Finally, pour the same amount of water into each carton (I used 2 cups for each).
Over the next couple of minutes, the excess water will drain out of the spouts and into the containers. You will likely notice that the carton of bare soil released a lot of dirty water. This is the carton that represents bare, unmanaged soil. The mulch or leaf litter carton likely released less water, and was probably cleaner than the bare soil water. The planted carton should have released the cleanest water in the smallest amount. The difference in the water coming out of these containers should show the effects erosion has on soil, and how a healthy balance of biomass and properly managed soils can help prevent erosion.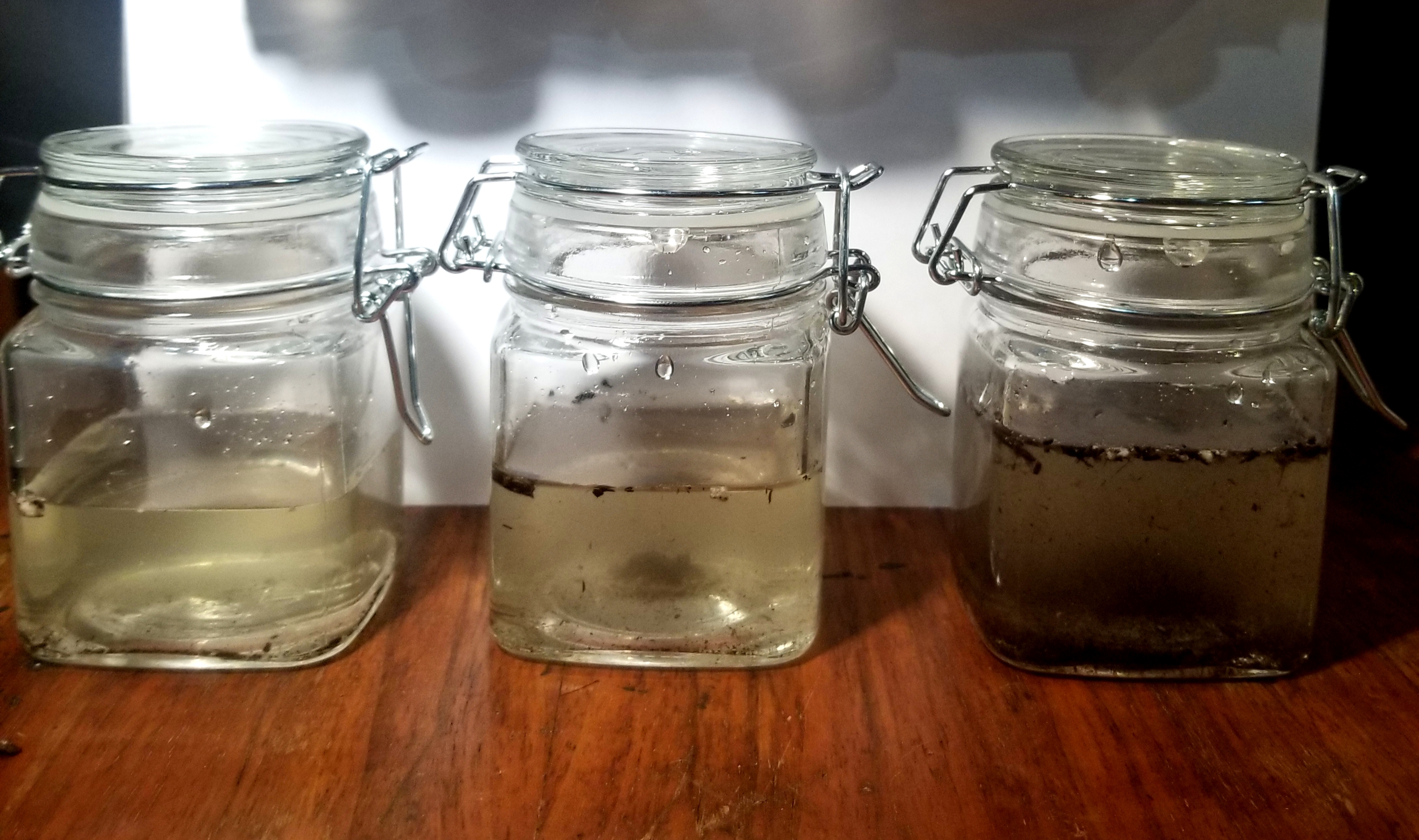 Project Notes:
Sustainability is key. I've seen this project done with 2-litre bottles, but I chose the cartons to help mitigate my usage of plastics. Since most of these cartons are biodegradable, I can just bury the whole thing in the ground and let it provide food to the plants as it breaks down.
If you'd like, glue some craft paper to the cartons to label or decorate them. Neat, organized labels usually make life easier.
I chose to use grass seed as it grows quickly, but you're free to plant whatever you'd like in your project! Beans, flowers, and lettuce are just a few other options that may grow quickly and be useful for when you're done with this project.
How'd your project turn out? Did the biomass help prevent the dirt from washing away? Share your projects and results with us in the comments here, or on our social media pages (Facebook, Twitter, Instagram). We love to see how they turn out!
CJ w/ Children of Terra-NEO
Check out parts one and two of this three part soil science series here:
Soil Shake:
https://www.childrenofterra.org/apps/blog/show/44817187-learning-about-soil-part-2-of-3" target="_blank">https://www.childrenofterra.org/apps/blog/show/44817187-learning-about-soil-part-2-of-3
Determining Soil Type:
https://www.childrenofterra.org/apps/blog/show/44766238-learning-about-soil-part-1-of-3" target="_blank">https://www.childrenofterra.org/apps/blog/show/44766238-learning-about-soil-part-1-of-3
Resources: 
Earth Eclipse: Causes, Effects and Types of Erosion 
https://www.eartheclipse.com/geology/causes-effects-types-of-erosion.html
Queensland Government: Preventing and managing erosion
https://www.qld.gov.au/environment/land/management/soil/erosion/management
Science Direct: Soil Biomass
https://www.sciencedirect.com/topics/agricultural-and-biological-sciences/soil-biomass
Categories: leafSTEM: Connecting Science, Tech, Engineering, and Math with the Environment, Habitat Protection and Restoration, Upcycling and DIY
/